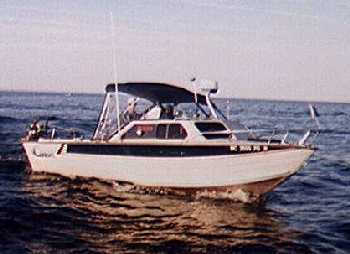 Welcome to my fishing web site. This is my twenty-second year of logging my Lake Superior Fishing adventures. I synopsize most trips, generally describing my adventures, successes and other details out on the Big Pond. My boat is appropriately named "Cooler By The Lake". I am just a plain fisherman who loves to fish Lake Superior, mostly for Lake Trout. I do

not

run a charter. I try to update my reports after each trip. I think of it as a log but some might say it's a BLOG, mox nix. Thank you for following us on our Lake Superior fishing journeys. Please if you have any questions or suggestions on my reports or narratives. Compliments are also welcomed. Don't forget to visit my Joe's Woodshed.
"Cooler By The Lake"

Marquette, Michigan

2017 Lake Superior Fishing Log
Information on tagging. About 5 of us local fishermen participated in a Michigan DNR Lake Trout Hooking-Mortality 6-year study being conducted in Marquette (Lake Superior) beginning in 2010. This unique study will attempt to determine hooking-mortality rates of lake trout to help DNR biologists evaluate whether certain size limits are having the desired management outcome. The tagging portion has ended in 2013 but data was collected on recaptured Lakers through 2015. Then I'll be anxious to see the final study. Click here to see more information and interim results on the Lake Trout Hooking-Mortality study.
Click here to see last year's log - 2016 or click here choose prior year fishing reports
13 Apr 17 Shakedown trip today with Rick Sarasien. Still there's only the north dock in at the launch so I had to do a little reconnoitering launching as I'm geared up to use the south dock. Anyway, the launch went smoothly and we headed out in near calm seas to set lines in 180' FOW. Action was very slow and we marked no fish. No suprise for early spring fishing. We worked deeper and finally a hit on the Johnson rod in 226', which went into the box. We stayed deep and plied water as deep as 262' - ouch. The second Laker came off a rigger at 250'. Finally, shy of 3 hours we were pulling lines only to discover a nice Laker on one of the riggers. I'm sure we're the only ones to have that happen...yeah, right! But it was a beautiful day with full sunshine and calm winds and seas and no goat ropes. Surface water was 35.5º and the air 47º. Good way to start the season.
8 April 2017 Today was a get the boat in the water and test a few things day. Last season on the last run the drive wouldn't shift into forward so we made some adjustments this spring. Today I cleverly left the boat on the trailer, lowered the I/O and started the big engine. Ah ha, shifted great. Hopefully, that problem is solved. So I let the engine run a bit just to warm it up so it would idle better but I wondered what that wooshing sound was. Pulled back the engine dog house and viola, none of the petcocks were closed even though they were checked off on my extensive checklist. Well, that water was really filling the bilge fast so I turned off the motor and put the bilge pump on. First time I used it in 20 years so we'll consider that maneuver a bilge pump test. But I think I'm ready for the Big Pond soon.
You are visitor number 1,000,007 (just kidding)