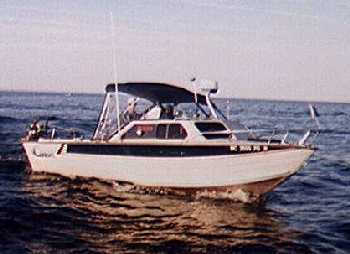 Welcome to my fishing web site. This is my twenty-fifth year of logging my Lake Superior Fishing adventures. I synopsize most trips, generally describing my adventures, successes and other details out on the Big Pond. My boat is appropriately named "Cooler By The Lake". I am just a plain fisherman who loves to fish Lake Superior, mostly for Lake Trout. I do

not

run a charter. I try to update my reports after each trip. I think of it as a log but some might say it's a BLOG, mox nix. Thank you for following us on our Lake Superior fishing journeys. Please if you have any questions or suggestions on my reports or narratives. Compliments are also welcomed.
"Cooler By The Lake"

Marquette, Michigan

2020 Lake Superior Fishing Log
Information on tagging. About 5 of us local fishermen participated in a Michigan DNR Lake Trout Hooking-Mortality 6-year study being conducted in Marquette (Lake Superior) beginning in 2010. This unique study determined hooking-mortality rates of lake trout to help DNR biologists evaluate whether certain size limits are having the desired management outcome. The tagging portion has ended in 2013 but data was collected on recaptured Lakers through 2015. Click here for my highlights during the study. The study has been completed and published. I obtained a copy of the article that appeared in the Steelheader Magazine in 2018. Click here to see the article in PDF format.
24 May 20 Yesterday's forecast for today included calm winds and fog, but the fog didn't show up as Jim and I headed out on beautiful seas. Action was fairly slow but near a favorite spot, we picked up 3 nice Lakers, which I marked on my GPS. We then ranged around and picked up one more before we headed back to the GPS icons where we caught 2 more. We slowly picked up 3 more as we trolled towards our starting point. Doing the math, we ended with 8 Lakers and 1 miss, in 3 1/2 hours in wonderful conditions. Great time!
22 May 20 My guest today was Dan Webb, who's waiting to get his own boat in the water. Conditions were near ideal with sunshine and calm seas and winds. We didn't go very far and set lines at 154' but sloping downward. It wasn't 5 minutes with only one rigger in the water that we had our first Laker in the box. Shortly afterwards, The Johnson rod had a hit and was fighting to about 50' being the boat, then went the other way. After quite a while we picked up a 4# Laker on the Johnson and later lost two more. Then our last Laker was on right behind the boat when we had an equipment failure so we're considering that a release. Boiling it down, we went home with two nice Lakers, two misses, and having the therapy of having un-cloistered time on the water. Beautiful day! 🚤
21 May 20 It wasn't easy but I talked Jim into going to one of my ole hot spots, where in the past I've done well on average. Seas were a little lumpy for the first mile, then as we got to open water, the seas and breeze flattened, mostly caused by the cold 39º water dampening the wind. I've seen that many times in the Spring. Surprise - the hot spot wasn't very hot and we struggled to get 5 Lakers in 3 hours. But once again, conditions were near perfect and excuses were hard to find. Finally, whence wrapping it up, we could see an east breeze heading toward us with heavy, cold air headed towards land to fill in for the rising warm air on land. I looked at my thermometer and saw it quickly drop from 52º to 42,8º. Moral of the story is if you take off your coat, keep it within an arm's length, for you may need it soon. Perfect time to quit after a great time on the water.
20 May 20 Today was a mixed emotion day starting with beautiful water, no wind and sunshine. That said, Jim and I struggled to get but two Lakers in a little over 3 hours. What was that all about! Then talking to a few other fishermen (there weren't many out), they did considerably better than us. Guess that's really what fishing is about but it was not a down day for us. Rather both of us expressed how wonderful it was to be on the water, in the sun, and that the fish were a bonus. We couldn't be more appreciative after being cooped up this spring and continuing on for who knows how long.
16 May I awoke early this morning to 39º and in an hour it dropped to 36º, and the forecast was for fog but calm waters. Pretty sad when you consider that to be a good forecast, but cloistering will do that to a fisherman. So Jim and I launched in fairly heavy fog, radar spinning, then setting lines in 145' but in depths slowly dropping. We were running roughly along the same run we made last time, which went quite well. Half an hour passed and finally my rigger indicated a light hit and whence netting the Laker, called it a dink (legal size usually but to small to keep) so we released it. Another half hour passed without a hit and suddenly, Jim said I have two (single line double), I had one, and the Johnson rod had one, four at one time. Another big huh? (I won't say WTF) So we finally thought this is the spot (I have found it strangely very productive over the years) so we turned and followed our GPS track through the same area. You're getting ahead of me if you guessing no hits. Right! So it seemed like at least another hour plus of nothingness we circled, hoping for one more. So I said I'd log us out for 15 minutes more which magically sometime produces another fish. Well, it worked as we caught 2 Lakers just before we quit. The fog had lifted about an hour before we quit and seas remained wonderfully calm. It proved a wonderful fishing trip, mentally and productive too. Surface water was FWIW 38º, air 54º.
5 May With a cold but calm forecast today and a lousy forecast for the next several days prompted Jim and I to go for it. It was fairly calm when we left and set up in 185' water. It wasn't long before we boxed the first Laker. Then 15 minutes later, a single line double on the starboard rigger when the Johnson rod went off - a triple. Then a fifth Laker in the box after just half an hour. Then reality set in as we trolled for over an hour without a hit, whilst the NE winds and waves slowly increased. While talking about quitting in the last 15 minutes, we picked up two more Lakers so we were glad to pick up 7 Lakers in a little over 2 hours but also glad to head in with a 10 mph NE wind and 1 foot seas. Water temperature was 39º and the air 37º.
1 May 20 Finally, a light wind and a warmer day as Jim and I headed out mid morning on our maiden voyage. Seas were light with small rollers. We set lines at 165' and about 45 minutes passed before the first Laker went into the box. Then an hour passed without a hit, then a double, one over 7#. We turned and finally picked up another Laker before wrapping it up in 2 1/2 hours. Oh, we missed 2. But it was so nice to be outside in the fresh air and sunshine after being cooped up for months. We were hoping the weather would turn the corner but the coming week looks disappointing with wind and cold. Oh well! Today is a good memory!
26 Apr 20 Still snow on the ground. Coronavirus Pandemic has changed our lives, perhaps forever. Governor just took off boating ban but I didn't miss much fishing what with all the wind and cold. Today Jim and I readied boat, took it to the launch, left it on the trailer, then started both engines. We're ready!
Below is an extract from my 2000 log. Hopefully entertainment to help us through the winter.! My organizational skills have not improved much since then.
17 Mar 00 Two-Tackle Box Syndrome. It all started about a week ago when I was rigging a few rods to fish the breakwater for whitefish and Coho. I bought a few small hooks at a local tackle shop, then tied up a small swivel and tested the line, which promptly snapped. The line seemed bad so my idea was to change reel spools with a better line. Now where was that spool? It must be in my other tackle box in the basement. Well it wasn't there but I did see some things in it that I forgot I had, some duplicate of those in my main tackle box, whichever was my "main tackle box." Thinking I should consolidate some of this stuff I opened the two boxes and started. Then I remembered the box of miscellaneous stuff in my other attic tackle box. I also had a box of stuff on the top of a shelf...and a drawer of loose gear. Pretty soon, I had fishing gear strewn all over the place. I found I had hooks exactly like the ones I just bought. I rarely fish for Walleye but had enough tackle to start a small store. Ironically, when I fish Walleye, I usually use only a couple of the same lures but I'm always prepared with other lures. It's the same for fishing on Lake Superior - a couple of spoons is all I use. This I refer to as the Missionary Fishing Position -- if something works well, why change? Ironically, it doesn't often work for Walleye.
My attention span was about the same as my 4-year old grandson. I would get to working on some of this tackle and soon get sidetracked. Before long, I was working on something completely different. At this point I still had not located my spool but did discover another reel that would probably work. With 5 tackle boxes, boxes of gear, drawers open and gear cast about, it took about 4 days to consolidate my gear. In the process I eliminated only one small tackle box but now will always know where my stuff is when I need it...it'll still be in one of my tackle boxes that I don't have with me.
When looking for things, I often think, "where would a logical person put that item?" My seemingly logical concept is often anything but logical. I seem to remember things best that were originally put in stupid places. When I move items to a "logical" place, the litany of "now where did I put that" inevitably starts weeks or months later when I'm looking for them. When I ask myself the question where I probably "logically" put them, my current logic usually says the items are somewhere else. So much for logic!
Nearing the end of this tackle consolidation saga, all of a sudden a light came on that there was yet another drawer of mostly miscellaneous items containing some tackle items. Guess what, at the bottom of the drawer was the spool that started this whole adventure even though I stopped looking for it. No logical reason it was there. I didn't do much to straighten that drawer because everyone needs a drawer or box to just throw things in as a "holding area" until or should I say if one decides to "get organized" someday. OK, so I had more than one of these drawers and tackle boxes.
So what have I learned from all this? Really there are several principles involved here. The first is an axiom that can apply to anything from organizing tackle to computer files - the more you break things down or store things "logically" the more complicated it becomes and the harder to find. The second axiom is what I refer to as the "Mushroom Effect." This effect normally starts as an innocuously small project (such as this one) where in order to accomplish the one small thing you wanted to do soon leads to another project, usually more complicated and expensive, and soon the whole project mushrooms out of control. Plumbing jobs are excellent examples of the mushroom effect. The third axiom is not to stop buying fishing gear even if it's unlikely you'll need it because you really can't be sure you won't. That's assuming you can find it when you need it. This last axiom may cycle one back to the two tackle box syndrome as if you buy several of the same items, you can put one in each tackle box (hopefully not all in one) or put them in different locations. This principle also applies to house tools kept on the boat.
Now that the goat rope exercise with tackle is largely behind me, I moved on to the supposedly simple task of putting new line on my downrigger rods. However, that's another story for another time.
You are visitor number 1,000,008 (just kidding)