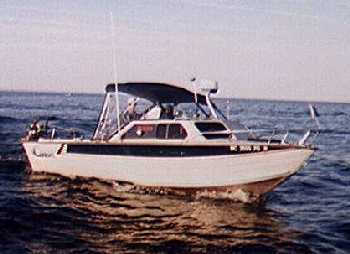 Welcome to my fishing web site. This is my twenty-seventh year of logging my Lake Superior Fishing adventures. I synopsize most trips, generally describing my adventures, successes and other details out on the Big Pond. My boat is appropriately named "Cooler By The Lake". I am just a plain fisherman who loves to fish Lake Superior, mostly for Lake Trout. I do

not

run a charter. I try to update my reports after each trip. Thank you for following us on our Lake Superior fishing journeys. Please if you have any questions or suggestions on my reports or narratives. Compliments are also welcomed.
"Cooler By The Lake"

Marquette, Michigan

2022 Lake Superior Fishing Log
Click here to see last year's log - 2021 or click here choose prior year fishing reports
19 May 22 Today was not a good day. The forecast was for partly cloudy and winds light at 5 mph out of the north. With guest Jim Price, we arrived at the launch where there was heavy fog. We launched, thinking it would burn off. Wrong thinking so we headed out with the radar spinning. The fog never lifted and the sun never shown and the winds picked up to 10 mph from the north and the waves increased to 1-2'. But we finally got to our destination and set lines at 120' and worked our way to 180'. It was really cold with that wind. The water was 38.8º and air was 39.2º. We marked a couple of fish but had no takers. Then, the port rigger rigger weight parted company and disappeared with some other gear. I suggested heading home rather than re-rigging and got no objection from Jim so we did. I'm tempted to make a new rule that if I'm forced off because of weather before catching a Laker, it shouldn't be considered a skunk. But I won'! t If it was less than an hour, I might. 😉 The fog never lifted and the return trip was by radar.
14 May 22 My guest today was Ron Mattson. It was a questionable weather day as the forecast called for 5 mph and calming winds. However, at the top of the forecast was a special warning of winds gusting to 25 mph. Huh? I called the NWS for clarification and was assured the Big Pond would be docile (my description). So out we went, this time in a different direction from last but a little further. I saw a fishing friend who limits almost every time so we fished in that area. Looking at my GPS I had been there many times before. We set lines at 170 feet, in calm waters and winds and before long, but our first Laker in the box, albeit a small one. That was followed by 5 more and missed a wild one. Things went smoothly except on the 5th Laker the Johnson rod line tangled in the rigger line. It's what I call a goatus ropus (Latin for Goat Rope) but after struggling to untangle, the Laker was still on. Bottom line is we caught 6 Lakers in a little over 3 hours. The water remained beautifully calm the entire time.
7May22 Well, finally on the water with guest Gary McDonnell. It was a shakedown trip to see that everything was working ok. But it was a cold day at 45º with a 10 mph NE breeze. Water temperature was 37º. Short of it is we marked two fish and caught nothing. Good new is everything was working fine, except for the lures. 😁 We'll take it more serious next time.I got the boat ready to go about a week earlier. Thougt I best turn on the electronics and looking at my marine radio, noticed it was on channel 8L. Well there is no channel 8L unless your radio is upside down. Right side up it correctly was 78 Dah!
You are visitor number 1,000,008 (just kidding)