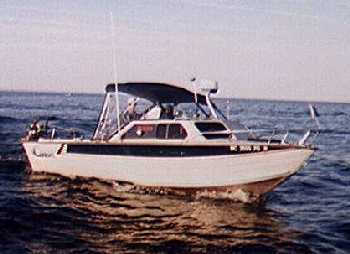 "Cooler By The Lake"
Marquette, MI
1998 Fishing Log (and final report)

Welcome to my fishing site. I've synopsized trips of possible interest to you and those with guests. My boat is appropriately named "Cooler By The Lake". I am just a plain fisherman that loves to fish Lake Superior and I do not run a charter. I'll try to update my reports every couple of trips, daily if possible. Thank you for following us on our fishing journeys. Please if you have any questions or suggestions on my reports or narratives. Compliments are also welcomed.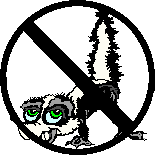 Our "Super Skunkless Consecutive Trip Count" ended at 365 trips on 1 June, 1998, 4 years after our last skunk in June 1994. Granted, we were forced off prematurely by steering problems, wind, waves, and rain, but a skunk is a skunk. However, we did have two fish on but lost them both. Clarence wasn't with me and all he said when he found out was "Thank God I wasn't with!"
As of November 1998, current fish per hour = 1.30, 1.51 last year, total skunks for 1998 = 8 out of 110 trips. Please see our report below.
---
1998 Log and Report
3 Dec 98 Whew! I finally compiled and reconciled my fishing statistics. What a lot of work as I had to learn Access® database so that took a lot longer than inputting and compiling on my 14-year old DOS database program (that's progress?). Next year's report should be easier, if I can remember what to do.
Overall, it was a wonderful year...and we came in 2nd place in the fishing contest too. My analysis of the lower fish per hour rate is that we were off to such a terribly slow start in the Spring and early Summer. We sometimes struggled to catch even one fish. Around August, action picked up fast and we didn't have to go as far either but we couldn't catch up statistically, not that it is real important. After going several years without a skunk, this year we got 8, mostly because we went out when we shouldn't have, e.g., windy forecast that actually came true (that does happen.) As a result, we were like our favorite football team the Packers of a few years ago that would not have lost a game except they ran out of time (guess it still happens).
Thank you for looking in on my site and I hope you enjoyed it as much as I did keeping it up. I plan to do some ice fishing (here it is 50 degrees on 3 December 1998) this winter and may post some results (that ought to be interesting as normally unproductive walleye fishing and deer hunting come to mind). Please join me in the future and drop me a note, albeit a short one, letting me know your thoughts. If your thoughts agree with mine, I will think of you as a very wise person. Thanks again.
Fishing summary for 1998

Trolling Hours

419

Trips

110

Fish per hour

1.30

Total fish caught

542 (number released increased this year)

Skunks during year

8

Number & average weight of Lake Trout

4.7 lbs.

Average weight of Lake Trout w/thumb on scale (just kidding)

5.3 lbs.

Number & average weight of Steelhead

Didn't catch a cotton picking one.

Number & average weight of Coho

2 Coho averaging 3.7 lbs.

Fish per hour rates 1984 through 1998

.39, .74, .75, .89 1.08, .92, 1.21 1.29, 1.38, 1.21, 1.54, 1.57, 1.63, 1.51, 1.30
Deer Hunting

: 30 Nov 98 - Well, it's been a fun year deer hunting. I've been fully successful at not seeing a buck. I seem to know as much about deer hunting as I do walleye fishing. I'm perfectly content not to shot a deer as my blind is like a condo with a heater and all and the camp meals are great. I asked my brother if he had any later Penthouse magazines than the October 1982 version in the blind. He informed me that was the latest!

10 November, 1998 The boat is now put away for the season as the wind has been ceaseless (hasn't stopped either) for a lousy fishing fall weather scene. Clarence and I are wearing our usual black armbands in mourning. Our wives are too as we'll be home more. Please check back in a few weeks for my 1998 statistical report, similar to last year's report.

29 Oct - Last trip out for the season. Got blown off in about an hour with nothing to show for it.

27 Oct -Super sunny day that warmed to nearly 65 degrees with south winds at around 10 mph. I told Clarence one forecast predicted wind clocking from south to east and the other forecast clocking to the west and northwest. Clarence asked, "Do we have a choice?" We caught 11 Lakers in 3 hours, 5 of which were dinks and released. There was only one other boat out. We marked very few fish and all were from 140' to 160', some were 20' from the bottom.

26 Oct - The rain let up early and it turned out a mild and reasonably calm day. I don't think we marked a single fish between 130' and 160'. I hope they're not all done. Finally, we got 3 Lakers on at once, catching 2 of them. Ironically, those were the only ones we caught, getting only 1 other hit later. We tried in shallow but nothing there either. It was a fairly short trip so maybe we didn't give it a fair shot. Tomorrow!

22 Oct - Finally the wind let up. Marked very few fish and finally caught 3 Lakers in around 150'. We tried shallow but nothing shaking. We were trolling across the Presque Isle harbor entrance as a huge ore boat was coming in. I asked Clarence who has the right of way in these situations and he said "he does, he's bigger!" Made sense to me. A few minutes later we got the "5 short blasts" emergency signal from the ore boat but it was more dramatic than not - we were well out of his way. Ore boats are a pretty sight and something pretty to watch when fishing is slow like it was.

15 Oct - Beautiful but cold morning, air temperature was 38 degrees, water 57 degrees. With still some good size rollers left over from the prior day, we were not set up for 10 minutes before we quickly had 3 Lakers on at once. The wind slowly built to 14 from the SSE but it wasn't a problem. We marked lots of fish marks on the graph, some suspended up to 25' off the bottom. Within one hour and 15 minutes we caught 7 Lakers, the last hit after we boxed the 6th and we were pulling in the lines. The most productive depths were 140' to 150'.

11 Oct - Fog like pea soup and 5' rollers didn't deter us. Only one other fool boat out and we don't know how he did. We caught 3 large Lakers from 90' to 150'. Fishing Net Alert! There are well marked nets with flags are strung between white and black rocks. However, we nearly tangled with other nets in the sand hole as we came within 150' before we saw them. Their location was N46 33.685, W87 20.937. They were only marked with milk jugs, no flags. I'll vent my spleen on that issue later.

10 Oct - A fantastic day with light southerly winds and sunshine fishing north of white rocks. Caught a 8#, 9#, and 5# Laker in shy of two hours. Had a 10# Laker a foot from the net but I played with it long enough so it fortunately got off and swam away so I got to fish for another 15 minutes. What a glorious fall day. The fish were a bonus.

9 Oct - Fishing by my lonesome, I caught 3 nice lean Lakers in 1 1/2 hours, all around 145'. The wind was from the south at around 12 mph with about a 2' chop. I had fun listening on to others on the marine radio. One boat had one fish in his box and the skipper was suddenly an "expert", guiding another boat to where the fish were and telling him the kind of lure and color that was best. All this time I thought you had to have more than one fish in the box to be qualified to give that kind of advice.

8 Oct - Where'd they go? Another rough day with north winds at 12 -16 mph. Marked 3 fish all morning and finally caught 5 Lakers, all leans, after 4 1/2 hours. The charter was struggling too, catching 4 Lakers near us. Most were 140'ish but one we hit at 180' during a turn over deep water.

4 Oct - What a difference a day makes. Same place as yesterday but relatively calm waters and yes, east winds but pretty light. A beautiful day as the sun brought out the shore fall colors. We caught 12 Lakers, and released 8 of them, one of which was a 16# lean. It appeared in good shape so we put it in the water and it just floated there as we trolled away. Rats! I made a hard turn to go back (not easy to do with downriggers) and after some maneuvering when I got along side the Laker, I grabbed its tail the Laker shot out of my hand like a rocket so that made us feel good. That's the breed stock and size I like to see released. Most of the others we released were pretty small. We marked tons on the bottom and everything was from 145' to 165', marking nothing under 145' although we checked that water out.

3 Oct - Talk about rough! Light winds once again proved 12 mph from the east, a nasty direction. We could hardly stand up in the boat but still it was quite fishable. There were some 6' rollers coming through but they were not breaking most of the time so there was no danger per se. Anyway, we caught a 4 1/2 Laker and Coho. That was it. We only saw one other boat and he caught 3 Lakers. We marked only 4 fish. Where did they go?

2 Oct - With winds honking at 16 to 18 mph from the north, we didn't go far from the harbor in the rough water. We marked a fair number of fish but they must have all had lockjaw. It was a short trip and unproductive fishing wise, but I did get my steering set up and tuned. Clarence kiddingly mentioned to his wife before we went fishing not to worry about his lunch. She told him she wouldn't and that she wasn't very worried about his supper either. Fishermen get no respect.

29 Sep - Couldn't stand being landlocked any more and the day looked nice so I jury rigged for steering with a long pole as my boat repair parts still were not in. The water started calm but slowly built to 14 mph north winds and 2' waves. Marked tons of fish within 20' of the bottom and finally hit an 8# Laker. That was followed by a 16# Laker we were going to release but had the lure too deep. We caught the big one going right next to one of the charters whose name we won't mention. We're not supposed to gloat but I think we did. We ended up with 4 nice fish and finally quit as the wind kept increasing and steering responsiveness kept decreasing. Boat repair parts finally were delivered after we came in. I didn't know UPS had 8-day service.

19 Sep - "Roller City" but quite fishable with rollers at least 5' high from the northeast but not breaking. We did lots of walking in the boat while not going anywhere. We caught 5 Lakers in a little over 3 hours, including an 18# lean Laker friend Tony Pearson caught and we released after I dropped it on the floor. I think we caught less than several other boats that reported catches of 9 and 12 fish, including a 17# Chinook. Most fish were near the bottom but some were suspended 40' to 70'.

18 Sep - It was a beautiful day with a 4 mph southerly breeze, despite a marine forecast of 2' - 4' waves with winds swinging from NE to NW, and a local forecast for winds increasing at noon and swinging from SW to NW to NE. It was calm on the "Big Pond" for the entire day. After a doubtful start with a battery with a dead cell, we fished from 10 until noon and picked up five nice Lakers, ranging from 5# to 13#. Only one was a "fat". Once again, we did best at 140' with the 13# Laker being an exception 40' up from the bottom.

17 Sep - Caught 9 Lakers and a 6-pound Chinook. One of the Lakers, a 14 pounder, was caught around 35' from the bottom, as was the Chinook. We went through the usual look in the mouth, spots on the caudal fin, anal rays, etc., routine but ended up with a best guess it was a Chinook and not a Coho. We just don't catch that many Salmon so we were very excited either way. It's my belief they're often confused and I also believe there are not many 6# Cohos around here and that helped make my best guess a Chinook. Minerva was on the water and doing well. They believed their 6# Salmon was a Coho, not a Chinook.

16 Sep - After several windy and rainy days, guest Jim Radtke, Clarence, and I caught 6 Lakers and a Coho on a beautiful day. Yup, we caught a Coho -- and on the Dipsy too. The Lakers were again around 140', where we also marked quite a few. The Dipsy was at 145 on the counter (for you Diawa reel owners). I'm still not taking back what I previously said about Dipsys. One of the Lakers was 13# which actually gained weight while in the box. This occurred while we were on the marine radio and it turned into a 14# Laker when talking to a few fellow fisherman out there. One or two of the other fish we caught may have picked up a pound or two. I call it "radio fat". I know other fishermen have experienced or caused this phenomenon.

12 Sep - Took Jim Bystrom as I traditionally do for his birthday. Big time waves - 4' - 7', no kidding. Wind was only 12 mph but the rollers were huge. Despite that, there were lots of boats out. We hit 4 Lakers and one Coho. Yup, a 3 1/4 lb. Coho - and not on a Dipsy. First Coho in months. Did talk to some others that reported a few Coho and Chinook were coming in, but not many. Bad news was that we hung up on the bottom with our riggers and lost a couple of weights, release, and lures. Ouch! Rain and wind is scheduled in the next few days.

9 Sep -- After more windy weather finally got out. Fished by myself in what was supposed to be light and variable winds. Read that as 16 mph NW and 3'-4' waves. However, in my missionary position of fishing (means same old spot), I caught a 8, 19, and 6 1/2 Laker. Getting that big one in the net took some doing in that rough water. All three were near bottom with no action on the suspended lures.

5 Sep - NEWS FLASH! We came in second place in the Marquette Bay Classic trout catch and keep category with 60.8 pounds for 6 Lake Trout. I have obtained tournament results and will eventually put them on my web site.
We started at 6:13 a.m. and bumbled around in the dark so we lost 20 minutes getting set up whereas we normally are ready in 5 minutes. Clarence quickly hit a 14 1/2 Lake Trout on the steel line and handled that fish like a pro. That Laker came in 4th place in the largest Laker category but only the 1st place paid. While Clarence was fighting the big fish, I barked to the other crewmembers to get the downrigger lines up so I could slow the boat down, which we did. With lures 40' off the bottom and just creeping along, a 10# Laker hit a downrigger line, all this within the first hour. We got both fish in the box and thought this was our lucky day. We then caught 4 more Lakers in the next few hours, ranging from 3# to 5#. We released them thinking we can do better. Well, it shut down for us and we went until nearly noon before hitting any contender sized Lakers. I had been clocking the wind all morning and it ranged up to 12 mph. Suddenly the wind started to really kick at 20 mph plus and it was getting difficult to handle the boat. We needed one more to give us our 6th fish in the box (they weigh only the 6 largest fish). All this time we were lamenting releasing the 5# Laker earlier. We then hit our 6th Laker (I think it was around 8 pounds) within 15 minutes of calling it quits and heading for weigh-in. Goat ropes were minimal despite those stupid Dipsy Divers. I hate Dipsys but still use them, blindly hoping to catch a salmon or anything on one. Once again the Dipsys not only did not catch anything all day, but one actually tangled with our downrigger line and we nearly lost an 8# Laker. Minutes later I made a command decision that in those rough waters Dipsys were liabilities and we pulled them out. Anyway, all is well that ends well. Congratulations to the crew of Clarence Wiltzius, Mike Reckker, and John Wells III. We certainly can't say enough about our appreciation to all those who volunteer to put this fishing contest on. It's a tremendous amount of work. They're really the best.

Captain Joe had his own awards for the crew, which are as follows:
Clarence for making the biggest mess while eating his lunch.
John for learning the least while whacking his head at least 3 times entering the cabin.
Mike for learning the most setting up and operating downriggers.
4 Sep - Today we practiced for the Marquette Bay Classic fishing tournament tomorrow. We caught 7 Lakers, weighed and released 6 of them (54 pounds). We saw the boat Minerva and heard them exclaim "Oh Maaannnnn" as they reached over to steer their auxiliary motor with the broken steering. Despite their problem, they were having a hot day catching some nice Lakers too. Hope we didn't jinx ourselves by fishing today.
3 Sep - After two days off when the Lake was huffing and puffing, we got out only to find it still huffing at 16 mph and 3'+ waves out of the north. We did hit a 19# and 5 other Lakers, again around 130' near the bottom, or maybe within 20' of the bottom. Nothing hit suspended. There were lots of fish marks on the graph. When you hear others talk on the marine radio about the marks they're seeing, that usually means they are not catching much.
30 Aug - Off to a late start we quickly hit a 20# Laker at 130'. Per other boats in the area, the fishing had just shut down before we got there. However, within 3 hours we had 6 Lakers, including a 16# lean Laker we released in good shape, as well as a 10#. The seas built to 4' with 20 mph winds from the north so we fished it back. The 16# Laker we released right next to the only other boat we saw out there in the rough water and we knew he didn't have any fish per his conversation on the radio. Bet he wasn't happy when he saw us do that.
27 Aug - A magnificent day with beautiful water ...and we even caught fish. Clarence started with two Lakers at 75' in 130' and I picked up an 8# Laker at 140'. In our usually bantering I asked if he minded that I should fish at 75' like him. He told me to stay on the bottom where I belong. We had 5 in the box so I suggested we troll into real deep water (we hit 250') but fish suspended. I then caught a 20# (I weighed it before releasing it). With 5 still in the box we finally decided to quit when I hauled up, there was a 4# Laker on. My story is that it hit on the way up and I'm not changing my story.
26 Aug - We redeemed ourselves with 8 Lakers in 2 hours, including a 14# and 10#. Most were near the bottom in 140' water but two (lost another big one) were suspended around 70'. Water started with a good chop but settled down.
24 Aug - Skunkaroo! Ended our 28 consecutive skunkless trips with a short trip in rough water (winds at 18 mph, seas 3'+) and no fish, hits, and one mark. Clarence thought it was the thunder the night before that upset the fish. Two smaller boats were at the dock when we returned, each had two Lakers. Thunder eh?
22Aug - Caught a 14# Laker for starters in 130' water. Would have released it but it didn't look in good enough shape. Most caught were on the bottom. We marked only 3 fish, one of which was at 60'. I thought why not fish suspended so I cranked up to 60' a couple of minutes later and voila, a nice 8# Laker. Water and weather was great. Ended up with 5 Lakers in 3 hours. Mr. Dipsy was unproductive again. I think Harry may have renamed his boat from Hideaway to "Crack of Dawn" which fits. His idea of dawn is around 10 in the morning.
21 Aug - It was slow today as it took 6 hours but we got 4 nice lakers, two at 80' and two near the bottom in 140'. One was 12# and one 8#. Radios were quiet and most everyone was struggling. One highlight was our guest that joined us early on. A seagull was chasing a sparrow in the haze (we could just barely see land) and the sparrow landed on the boat for safety. He sat on the dashboard for about an hour as he looked exhausted. I saw him once with his eyes closed and yawning. He later perked up, walked around the floor, jumped on the back of the boat, sat on the riggers (not much activity there anyway), walked the gunwale around the front of the boat and down the other side, went into the cabin, and generally made himself at home. He stayed with us 4 hours and all the way to the marina where he finally flew off when he saw land. I thought I heard him say "Thanks for the lift!"
19 Aug - How come the NWS is usually right when they predict increasing winds, etc.? We started in 10 mph SSW winds which slowly built to 20mph and 3' seas. We heard on the radio one boat hit several Lakers 75' down in 180' of water. However, both charters were struggling with one having one and the other three Lakers. We quickly hit a double with one suspended and one near the bottom in 140'. We lost the one so we started fishing suspended at 75' and picked up 4 nice Lakers. After Clarence caught the 1st Laker suspended (where he seldom fishes I might add), I soon brought mine up and he asked whether I had asked permission to fish suspended where he was. Chee! As we fished into the rough water, one charter boat passing by jokingly radioed me that he could see the underside of my boat. I said we were as ok as long as that side stayed facing down. It wasn't long after that when we "pulled the pin."
16 Aug - Weather settled or so we thought. In slowly increasing south winds, we fished from White Rocks north towards Granot Rock in around 140' of water. We missed a couple then picked up 3 nice Lakers. The marine radio was abuzz with complaints of missed fish. After around 4 hours, while headed into 2'-3' waves, we got a double, one 12# and 10#.
13 Aug - Struggled to get 4 Lakers. California guest Ron R. was with and we did have a great day but it was slow. Others we talked with also did poorly. We cancelled on the 14th because of wind but listened on the marine radio to two charter boats complain that the Lakers shut down. One boat had one fish and the other had none as of 10:30 a.m. Still another boat came in (good fishermen) with only one so something turned off the Lakers temporarily.
12 Aug - Welcome to Randy Carpenter and Dave Hart looking in at my site. After a couple of "days off from fishing" (don't you love that term?), Clarence and I hit 5 nice Lakers in 1 hour and 5 minutes, and picked up the last one about 20 minutes later. We started almost immediately with a double. Fishing was best at 130' - 140' but Clarence hit one suspended at 90' but that was the only one suspended.
6 Aug - Hit 6 Lakers in 2 hours, largest was 10#, again in the 140' range near the bottom. I asked Clarence how big the Laker he just caught would have been if he had missed it? He dryly replied about 2# bigger. I'd have bet more than that.
4 & 5 Aug - Action has continued excellent since late July. We started in 130' water and within 5 minutes, caught two 5# Lakers on one line. We ended 2 hours later with a 17# Laker that we tried to release but kept because it didn't look like it would make it. As it turned out, the meat was lean and red. I smoked a batch of Lakers and had no trouble giving it to neighbors and friends.
3 Aug - Caught 6 nice Lakers in short order north of white rocks in around 140' water, near the bottom. Hardly marked any. We were the 7th boat in, 5 of the previous 6 boats had their limit.
2 Aug - Caught 9 Lakers in under 2 hours, mostly around 140' water. Water started rougher than predicted but gradually laid down. There was a boat fishing in real shallow so I asked Clarence what he thought they were fishing for. Clarence said "for pleasure."
1 Aug - Guest Ron L. and I caught 7 Lakers north of white rocks, in around 110' - 140' water. We also marked quite a few. Ron had not been on the "Big Pond" in 20+ years. It was a beautiful day. I explained to Ron "it wasn't always like this."
31 Jul - Caught 10 Lakers in 140' water, including a 17# and 13#. One fish took out line and it was a real hassle. After several minutes of solid fight, I looked out the back of the boat only to see a 2# Laker which didn't make me look good. However, that fish was on my slider. I released it because the 17# was about 10' behind it on the same line. Quite exciting. I don't think we marked a single fish.
27-29 Jul - Home again while small craft warnings up on Superior. Wife is asking why I'm not fishing.
26 Jul - Bumpy day on the water but we finally got four Lakers in from 168' down to 115'. Clarence said "check the marine weather - we don't have to believe them you know!" I confessed that I had referred to my 17# Chinook as a Chinook instead of a King Salmon. Clarence said any Chinook over 2 pounds was a King, it sounds so much better.
25 Jul - Back to Lake Superior we caught 11 Lakers in 2 1/2 hours. Depths ranged from 138' to 165'. The guy fishing in the boat next to us wondered what we were doing as he was having a slow day of it. Conditions were perfect.
22 Jul - Fished Chinook in Lake Michigan for a couple of days. Caught several (including one 17# screamer), released several, and had a number of hits where they would run like crazy and just like that, were gone and we don't know why. Lots of fun though. Most were in 80' - 100' water, about 50' down.
17 Jul - Banged around on the high seas in 3' - 4' waves and northerly winds of 12-18 mph. These were NWS "light winds from the north". Chee! Anyway, we caught 6 nice Lakers in from 185' to 100' so go figure what is the best depth. One was 8 pounds. The DNR was at the dock to check us out when we came in (we were the only boat left out as it was so rough). Clarence jokingly told the conservation officer that I caught 5 and he caught 1. The CO started asking if that was true, and making notes. I quickly told him that Clarence always jokes about those things and that we each caught 3 Lakers. He seemed satisfied and we passed the inspection. Clarence and I agreed the CO didn't have much of a sense of humor and that some things you just shouldn't say. I later told Clarence if I had gotten a ticket for catching 5 fish, I'd have told the CO that Clarence lied about his age (84 years old this month) and isn't a senior and shouldn't have gotten a senior discount on his fishing license.
14 Jul - Fished by myself in the sandhole and caught 5 Lakers in 2 1/2 hours. The water was beautiful and calm. I caught most fish near the bottom in 145 to 185' water.
11 Jul - Caught 4 Lakers in 165' water. Saw the "big fishing guns" Gineal and Northstar fishing next to us, the latter netting 3 fish while we watched. It was a perfect day on the water and Clarence didn't even wear his winter coat...but it wasn't far away. When we quit, I reeled in a light surface line with the lure skimming across the water and said the lure didn't seem to fool the seagulls nearby. Clarence said it didn't fool the fish either.
8 Jul - In the morning our guest was Jim R, an ole Laker fisherman. We got 4 nice size Lakers in from 125' to 180' of water. Jim was reminiscing about when he used to fish the Presque Isle harbor in his small boat and how he used to tie a rope around himself to the boat "so he wouldn't lose the boat if he fell over." Putting it that way cracked me up. In the evening we had guests John K, neighbor and Bradley (Duluth) and we fished north of white rocks on a beautiful evening. However, action was extremely slow and we had a Laker right behind that was fighting like crazy and he rolled and cut the line on the hook, swimming off with lure and all. Other than that, we marked considerable fish in 140' water.
2-6 Jul - Our best recent day was on the 4th when we caught 7 Lakers, including a 7 and 9 pound Laker, mostly at 160' of water. On the 6th, we got 5 Lakers and released 3 of them. Other than that, we've been ranging from 120' to 180' trying to find them but it's been slow. The winds have pretty consistently been from the east. The last two trips we're still plagued with what I call "eyeball Lakers" where you get to see them swim away before they can be netted. We've had a rash of that this year. I remember hearing any number of fishermen on a given day say "they're hitting short." I asked one what to do about that and he said give them more line. Beautiful!
1 Jul - Still slow. Caught 4 Laker in 5 hours but one was 15 1/4 pounds. Depths ranged from 125' to 165'. Water was beautiful. We didn't get a hit until I speeded up our trolling speed. I mentioned to Clarence that fish were like women shopping - they would buy it if they think it's getting away. Clarence said they would buy it anyway. Could have cried when we missed a nice steelhead on the Dipsy. It broke water and it was gone. We may start a new category of fish we see but don't catch.
29 Jun - Blown off the water. It started nicely but this time the NWS was right - gusts increased to over 20 mph as I clocked a couple of gusts at 24 mph. We got off the Lake after an hour - hitless and fishless. Yeah, yeah, - we should have listened to the NWS. Clarence made me do it.
27 Jun - Jim B was my guest and we got one Laker shallow and missed what seemed to be a Chinook as it started to really rip through the water. Then it was gone. Moved to 150' - 180' water where we got 6, the last being a single line double (two fish on one line) when we only needed one more. Murphy's Law! The water was calm and beautiful and 59 degrees, the same as the air temperature.
26 Jun - Rough day on the water - 3' - 4' waves with 18 mph winds from the north. So much for light wind predictions. Caught 3 Lakers in close to 50' water but not sure how we did it. Before the wind built, I asked Clarence what he had heard about the blueberry crop this year. Clarence said Dick had told him there that while golfing, he found there were not going to be any berries this year. Clarence said that Jack said there was going to be a good crop of blueberries as there were lots in blossom. I asked Clarence how to interpret these apparently conflicting reports. Clarence said he interpreted it that Jack was hitting his golf ball a lot further into the woods than Dick and we may have to walk a bit to find good blueberries.
23 Jun - My brother Ed, Clarence, and I enjoyed a calm and beautiful day fishing. However, we reeled 6 Lakers into sight behind the boat, only to have 5 shake their hook and swim away. We boxed only one. We couldn't believe it but that's fishing. Of course, everyone was there to greet us at the dock. We were told there were 32 fish brought in amongst 18 boats before we arrived.
22 Jun - More reality. A calm start quickly escalated to 18 mph winds from the west and 3'+ seas so we ended fishing where we didn't want to and quitting sooner than planned. Read into this that we caught no fish.
20 Jun - Reality check. We struggled for hours and got nothing where we quickly got 6 the last time. Listened to another boater who I feel is one of the masters at this type fishing and he said the water warmed up too much (it was 57 degrees) and perhaps the fish moved out. Clarence said "Does that mean the fish don't eat anymore?" Anyway, we went deep (160') and slowly caught 4 small Lakers, once having two fish on one line. Wind was steady 12 -14 mph from the SE.
18 Jun - Hit 6 Lakers in shallow water, two being over 7#. Talk about put up a fight. The last Laker fought for several minutes and about 25' behind the boat, rolled, threw the hook, and started swimming away. However, it was my lucky day when my stacker line slid down my main line and rehooked the Laker on my other lure. I couldn't believe it. The wind was running 12-14 mph from the SE. A nice you man Kevin was checking on the fishing action at the dock. We gave him a Laker and he was quite thrilled.
17 Jun - Caught 11 Lakers (released 5), mostly in 160' water near the bottom on spoons. Surface water dropped from 58 the prior day to 53 degrees and the air started out 53 also but crept up nicely to 65 degrees. I asked Clarence when he was going to remove his winter coat and he said he was wearing it for protection from the sun. Ya, right!
15 Jun - Clarence and I picked up only 2 Lakers shallow and finally moved to deeper water where we caught an 11-pound Laker that was 9 pounds after we pulled out the 17", 2# whitefish by the tail sticking out from the Laker's mouth.
14 Jun - Guest Harry Purvis gave Clarence and me some lessons in shallow fishing where we caught 4 Lakers between 25' - 45' water, and missed two. One of his most profound words of wisdom was to wrap your lunch in tinfoil, as whenever you have lunch, the rattle of the foil will cause the fish to hit. It worked when he was with!
10 Jun - Guests Rod and Gene were with when we caught 5 nice Lakers, 2 of which were using (shock) a Dipsy Diver, my most unfavorite device and a gold Finn Spoon. I know Dipsy's are often productive but I don't normally do well on them, they're a pain to use, and expensive to lose. We also had a throbber on the steel line that just hammered away for about 30 seconds. We couldn't crank it in or do anything but hold onto the rod. Then it was gone. That was a BIG Laker! Depths for the Lakers caught deep were around 140' - 170'.
6 & 7 Jun - Guests Dan and Cris Lorenz from Minneapolis were aboard when we hit 8 nice Lakers on Saturday and 7 on Sunday. We hit them all between 140 and 170' of water, near Little Presque Isle. Lost a Dipsy Diver and lure on a fish. The troops had a super sample of Michigan fishing on the license-free weekend.
30 May - Finally got out on a cold but calm morning to more slow fishing. Caught a small Laker, which we released. I suggested quitting before the rain started and put the net away. Almost immediately we caught a 13 Laker, the biggest this year. On our way to the marina, Clarence and I passed by the Dome. The sign said "Mature Citizens Exposition". I told Clarence I didn't think we qualified because of the way we act when we catch a fish - not very mature. By the way, we beat the rain home by minutes.
27 May 98 - Quick trip to sand hole. Hung both 'riggers and rods on something without warning but after half an hour of working them, we got all our tackle back. I can't figure out what's going on there. Caught 3 small Lakers in 150' water. It was a beautiful day.
25 May - Plowed into 3' - 4' waves with winds out of the North at 16 mph. I commented to Clarence "so much for NWS winds of 5 - 10 mph." He said what the NWS meant was 5 plus 10 mph. Anyway, we fished right into them and finally caught a 5-pound Laker, then quit. We'll wait for a nicer day. Close, but no skunk!
24 May - Caught 5 small Lakers. We had caught 3 when we got a triple. We put 2 in the box when Clarence said "Does this last one mean we have to quite?" He then went to net it and knocked it off and away it swam. I told him an ordinary fisherman might have thought that was an accident. He laughed!
23 May - Kirk and his daughter Lizzie (10) were guests as we fished the Shot Point area. Lizzie landed a 6 and 5 pound Laker and we ended up catching 4 nice Lakers and returning 6 more, most all in 140 - 160' water. Lizzie did a good job driving the boat too. It was a beautiful but cold day. Surface water was still at 47 degrees.
21 May - Caught 4 Lakers east in 150' water but it took 5 hours. We had caught only two when we were putting the net away to quit then got a double. Clarence and I had our annual discussion on why Laughing Fish Point isn't called Laughing Whitefish Point seeing as the Laughing Whitefish River exits there. Clarence doesn't believe it's Laughing Fish Point and when I said I'd show him the maps, he said "it's probably because the mapmakers ran out of ink printing the name." How can I argue logic like that?
18 May - Fishing started slowly in the sand hole but ended with 6 Lakers in from 140' to 160' water. Had two doubles. Wind was SE at 12 but slowly died. There was only one boat at the launch so we wondered what we were missing in the forecast. When we returned from fishing, a neighborhood 10-year old said to me "Gee Mister, weren't you wearing that sweater with the fish on it yesterday - don't you change your clothes everyday?" I told him real fisherman often didn't change their clothes for weeks at a time. Hope he doesn't tell his Mom what I said!
13 May - Beautiful day east from Presque Isle Harbor. Fished the sand hole and got nothing for 1 1/2 hours. Finally started picking up a few around 140' water and got 6 small, but nice eating size Lakers. Missed 4, including one we couldn't budge. Water was mostly calm and the air started in the low 60s but dropped to 47 degrees when a easterly breeze kicked up. Lesson is never put that winter jacket too far away.
12 May - Disaster struck as we tangled into some nets north of white rocks. I lost $50 in downrigger equipment and tackle. We were fishing where I don't ever recall seeing nets. When the net showed on the graph I quickly looked around to see if there were net flags and saw none. Two seconds later we hung the equipment. Another boat about 1/3 mile from us later said he saw one end of the net flag but not the other. Wish he had given me a heads up on the marine radio. I can't understand why the nets are not marked on both ends to make them CLEARLY visible, perhaps with decent sized flags? Is that asking too much? To finish our day, we got only one Laker, and missed three others. The final straw was when we pulled into the ramp, Catch-A-Finn, the DNR, and several others were there, just when we had one Laker. After repairs, perhaps we'll hit it again tomorrow, but someplace else.
10 & 11 May, 1998 - Fished nice water both days. Sunday picked up 5 Lakers and 7 on Monday. Air was around 43 degrees on Monday, water 41. Even the slightest breeze was cool. I asked Clarence when he was going to take off his winter coat and he said he would but "he needed the pockets." Yea, right! Most Lakers were in 120' - 160' and near bottom. Had a goat rope Sunday and hung bottom with a downrigger. Cost me some good tackle but that's fishing. That was in the sandhole. I'm not sure why they call it that as there's something down there besides sand.
6 May Trolled about 1 1/2 hours without a hit. Here's how the conversation went. Clarence - What's the barometer at? I said around 29.6 and rising. Clarence - I thought that's when they bite. Joe - I thought it was when the barometer was falling. Clarence - Maybe that's it! Joe - but then sometimes they hit when the barometer is steady. Clarence - "I think the problem is that the fish don't know!" Shortly after that, we caught 5 nice Lakers and a dink (small Laker) in a variety of depths. Maybe they don't know!
4 May Struggled for 5 hours to get 3 Lakers. Tried up to 180' water. Something Fishy got 6 Lakers, mostly in over 200' water.
28 & 29 Apr We caught 7 and 6 nice Lakers respectively, mostly around 120' - 140' water, mostly near the bottom. The weather has been beautiful with hardly a ripple on the water. On the 27th we ended with a triple, but only got two fish to the net. Another boat at the dock was out the same time but didn't get a hit. They said they were in considerably deeper water.
22 Apr Caught 7 Lakers and a Coho, the Lakers all at around 120' - 140'. Within first 5 minutes we hit a double and got a triple near the end. Fantastic, calm day. Air temperature was 40 degrees but the sun made it feel much warmer.
20 & 21 Apr Caught 5 Lakers each day, most running towards 170' water. Action very slow with no hits on Tuesday for 3 hours. Tried in close to a river mouth Monday and finished my 2nd book on "What I Don't Know About Catching Steelhead or Salmon!
19 Apr 98 Caught 4 lakers in around 150' water, north of white rocks. Marked a few also near the bottom but not much showing up suspended. Neil G. filled (6) but fished in 200'+ water.
15 Apr 98 Notice: Native Americans have been setting up nets in the sand hole (approximately 2.5 miles east of Presque Isle breakwater) and we almost got tangled. Be watchful.
15 Apr 98 Caught one small dink (small laker) which we returned. Of course several people were at the dock when we came in fishless. I asked them where they were when we came in with nice catches? Wind and waves from the North didn't make it very comfortable fishing. Water was 38 and air 34 while spitting snow.
6 Apr 98 Shakedown trip and earliest start in a long time. Fished Presque Isle Harbor for a while checking out some new equipment and finally moved into deeper water (150') where we caught two nice 4# Lakers. Ate one tonight. Talked with another crew who fished earlier in the day and didn't do that well. They had several "goat ropes" and lost some tackle. That's unusual for them. Water was 38 degrees and the air 37 when we started. I suggested to Jim he put his hands in the water, as it was warmer than the air. He didn't see the humor. Winds were around 10 mph out of the ENE, chilly!
---