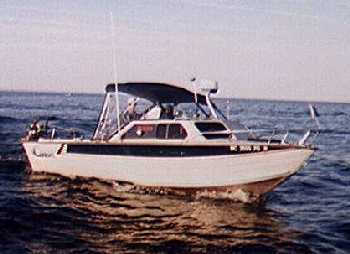 "Cooler By The Lake"
Marquette, MI
1999 Fishing Log and 1999 Report

Welcome to my fishing site. I've synopsized trips of possible interest to you and those with guests. My boat is appropriately named "Cooler By The Lake". I am just a plain fisherman that loves to fish Lake Superior and I do not run a charter. I'll try to update my reports every couple of trips, daily if possible. Thank you for following us on our fishing journeys. Please if you have any questions or suggestions on my reports or narratives. Compliments are also welcomed.

1999 Fishing Report and Analyses
30 Nov 99 I finally compiled and reconciled my fishing statistics. What a lot of work as I had to re-learn and revise my Access® fishing database. Excluded from my statistics were the few fishing trips in the Fall with my 14' boat.
Analyses. Part of the reason for the increased fish-per-hour rate is my excluding fishing trips primarily for salmon, of which there were quite a few early in the year. Although we were off to a slow start in the Spring and early Summer, things really picked up around August. I feel the increased fish-per-hour rate is really quite good considering I spent a considerable amount time fishing by myself, which allows me only two lines, versus the 4 lines I usually run with guests. Apparently, I've learned a few things to do right. However, it was also a sad year without my ole fishing partner Clarence who died this Spring.
Following last year's 8 skunks, I had 13 this year, mostly caused by bad weather moving in unexpectedly and my increasing lack of hesitancy to get off when it's not nice, without waiting to catch a fish.
Thank you for looking in on my site and I hope you enjoyed it as much as I did keeping it up. I plan to do some ice fishing this winter and may post some results (that ought to be interesting as normally unproductive walleye fishing and deer hunting come to mind). Please join me in the future and drop me a note, albeit a short one, letting me know your thoughts. If your thoughts agree with mine, I will think of you as a very wise person. Thanks again.
Fishing summary for 1999

Trolling Hours

300

Trips

102

Fish per hour

1.67 (1.30 in 1998)

Total fish caught

409 (includes released fish)

Skunks during year

13

Number & average weight of Lake Trout

5.9 lbs. (4.7 pounds last year)

Average weight of Lake Trout w/thumb on scale (just kidding)

6.4 lbs.

Number & average weight of Steelhead

2 (things are looking up from 0 last year)

Number & average weight of Coho

17 Coho averaging 2.3 lbs.

Fish per hour rates 1984 through 1999

.39, .74, .75, .89 1.08, .92, 1.21 1.29, 1.38, 1.21, 1.54, 1.57, 1.63, 1.51, 1.30, 1.67
1999 Fishing Log
---
31 Oct - Ah, at last a fantastic, clear, calm, mild day to fish. The temperature pushed to near 60 and it was just beautiful. Caught a nice Laker after about an hour and then the line screamed - first out, then to one side and then the other. I knew it had to be a salmon or Steelhead. After fighting the fish for nearly 20 minutes, I finally worked it near enough to the boat. My netting job was not very pretty - but it was effective. It was a Steelhead and weighted just over 7#. That alone made my day. I was just putting my things in order and looked up to see an Eagle flying directly overhead, coming from out on the Lake so who knows where he was coming from. What a sight! Also ended up with 2 Lakers, the largest 9#. Best of all, it took almost 5 hours so I got to enjoy the day even longer than usual. I thought if this is the last trip for the season, I could live with another one like it - soon.
30 Oct - Fishing on a threatening but fairly calm day, I hit a screamer but it was gone as fast as it hit. Curses! Within 10 minutes, had a nice Laker on and up to the net but watch him swim away. The rumble of thunder promptly motivated to pull in the gear and head for shore. Several others did the same so I mostly beat out the rain which really came down after I got home.
29 Oct - In Clarence's old 14" boat "Old Coot", Doug LaMora and I fished in 40' of water in Presque Isle Harbor, catching 3 beautiful Lakers, all around 6#. Also missed one. Most were around 30' down but two were on a weighted long line so who knows how deep that was running.
27 Oct - Got a late start in the day, by which time the wind was kicking at 20 from the south. However, guest George A. and I tried for only an hour and marked almost nothing and caught the same. I think that is probably good because now I can put the boat away and not worry about all the fish still out there waiting. It's still sad though as we'll hang up the "Cooler" in the next few days. However, we always try to have an ace in the hole as I have a 14' boat I can press into service given a nice day. Please check in about a month for my fishing report and statistics. Thanks for following us along.
24 Oct - Yesterday, winds were howling at 40 - 50 mph with waves as bad as I can recall seeing, reportedly over 20'. Today, it all settled down as though nothing happened. We didn't' get out until noon but quickly caught a 5# and 6# Laker. The sun was out and it was beautiful. In a little over an hour we caught our third Laker and it went crazy, taking at least 10 minutes to land. I mentioned to Tom I'd best get the other rigger up as we can only have 3 fish. After taking up the downrigger to where I could see the lure right behind the boat, I saw a 6# Laker come up and grab the lure, no more than 10' back of the boat. That was quite a sight and lots of unexpected fun. I was able to release it without netting and it was in fine shape. Brian came by in his boat and he had six after starting later than us. Ron in his boat also caught 3 Lakers in short order.
20 Oct - Fished early in40' of water and got two Lakers fairly quickly. They then shut down and that was it. Both were suspended around 25' down. Wind was 14 - 18mph from the west and a little tricky to handle the boat. Wind died after we got off the lake.
19 Oct - On a cloudy, cold, and spitting-rain day, we hit the shallow water with guests Doug LaMora and Don Constance. There were only two other boats out, one fishing the bubbler, one near us. As the 14' boat went by us with Brian, I signaled we had not fish and Brian indicated he had 5 Lakers and was looking for his last. The bad news was we had not even a hit. I felt I must have violated my "Do Not Gloat" rule after the good day yesterday. Doug and Don were hounding me to use my WD-40 so we put it on all the lures. Within an hour, we caught 4 nice Lakers and a Steelhead that streaked across the water. Meantime, we could see Brian fishing in closer, apparently still looking for his 6th fish. I felt we played catch up well. Worst of all is they wanted credit for the fish because it was at their suggestion of using the WD-40. Best of all was the camaraderie with Doug and Don whom I usually see fishing in their own boat.
18 Oct - The wind finally died off enough and despite the 3' - 4' rollers crashing over the breakwater, it was rock and roll but very fishable because there was little wind. I set up in 40' (yup, that's forth feet) of water (out of my missionary position of 140') and within 1/2 hour had three lean Lakers in the box, all 5# to 6#. Tom, my guest commented one felt like a 10# Laker when he realized there were two fish on one line. In essence, he had 10# of fish. We later caught another single line double and another (a triple) when we needed one more so we ended up releasing two 6# Lakers. It was great just fishing 25' down off the 'riggers. The water temperature was 57 degrees and air 41 degrees. What a fun day. Oh, I have to mention my dog and pony show with the first fish going through a hole in my net (have a new basket on order) and back into the water. Had a few other goat ropes too but nothing we didn't recover from. Can't wait for tomorrow.
9 Oct - With a one-day gap in the windy/rainy weather spell, I headed to my ole 150'-of-water-hole on a beautiful morning with 2' rollers but no wind. I quickly caught two 4# Lakers, and then needing one more, got a double with an 8# Laker on each line. After netting the first, I planned to release the second but did it unintentionally with my lousy netting job so it just swam away. That could not have worked out better. I hated to quit after fishing just one hour. Friend Bob and his boat "I-Da-Know" (I named his boat that because when you ask him when he's going fishing or where, he always replies "I don't know!") was fishing nearby and caught a couple of Lakers too. Not many fish marks but who cares when you're catching fish and/or the weather is beautiful. Forecast after today - windy, windy, rain,...etc.
4 Oct - With finally a decent forecast I tried the upper harbor for Salmon/Lakers but after hanging bottom, seeing few marks, and having no hits, moved to deeper water. There it was like old home week with Doug and Don in their boat shortly after setting up 50' aside of me then cutting me off (don't know what prompted them to do that but suspect they didn't realize they were drifting sideways in the wind). "Something Fishy" was nearby too as we fished 130' - 160' of water. I caught 4 Lakers, releasing one, all around 20' off the bottom. When I quit, "Crack of Dawn" (I call him that because he considers 10:00ish to be the crack of dawn) was launching. Surface water temperature was 59 degrees and air 36 degrees (starting).
3 Oct - Bounced in rollers after several windy days. Caught an 11# Laker and a couple more but marks were few and the action was slow.
25 Sep - Took my visiting nephew Kyle Pace (16), on the Big Pond on a very windy day. The wind, which I clocked at from 18 - 22mph from the south, pushed us along pretty fast. We caught 2 nice Lakers and then a 15# Laker hit the steel line. Kyle fought that fish for a long time in rough water and was a real trooper as I could see he was getting tired but he never let up. That fish fought him hard all the way and on steel line, there is no stretch so it's twice the challenge of catching fish on monofiliment. We finally quite as the wind steadied at 20-22 mph and fishing into the waves was difficult. For an hour and 15 minutes, it was a lot of fun and productive. We didn't hear of any other fish being caught that morning but did see one netted near us.
24 Sep - New guest Tom L. and I headed into 3' rollers with the wind from the NNE at 12mph but it was still very fishable water. We caught two small Lakers which we released and then a 16# Laker hit which Tom found to be a real challenge in the bouncy water. However, we got it in the net and were planning to release it but the fish was not in good shape. When we netted it, a lamprey was attached to its side and the fish had numerous lamprey battle scars.
22 Sep - After an ominous forecast of 10 - 20 from the north, it looked nice nearly all day so I suggested to my sister Ann Marie (Dort) visiting from St. Louis and other sister Betty that we go for a boat ride mid afternoon. Winds were light but 2' rollers discouraged a long ride so I asked if they were interested in just seeing how I fish. They said yes and we quickly caught a 4# Laker just north of white rocks. I questioned if they'd seen enough and wanted to move on. After a quick "no, let's fish some more", we caught a double, missed two more, and after we got the third fish in the box, before I could get up the other line, we caught still another Laker and had to release it. In an hour and 15 minutes, we headed in. It was indeed a beautiful day.
21 Sep - Bolted up from the supper table when I saw the wind die down and headed out. It started calm but the wind came up to 14 mph from the south but wasn't a problem. Caught 2 small Lakers in 150' water and released them. Marked a few fish on the bottom and then caught a 4# Laker, but decided to release it as it wasn't worth cleaning just one fish. Talked with two good salmon fishermen one of which said he marked lots deep in 70' water but no takers. The other said he didn't mark any at all in deeper water.
18 Sep - Hit the Pond at dark-o-clock by my lonesome, hoping to beat the 10 - 20 mph wind forecast. Didn't set up for 10 minutes when I caught a double at 140'. Shortly after that, I caught a 9# Laker, for a total time of 1/2 hour for the three fish. As it turned out, the wind forecast was revised during the morning and it was a fantastic day on the water, albeit too short a time. Most fishermen love to bitch. For example, if they catch their limit of fish quickly and have to go home, they bitch. If the fishing is too slow, they bitch. However, I don't do that, ya, right!
17 Sep - Briefly talked with the "Chris-B" who was coming in with a few salmon and Lakers, while I was headed out around noon time. I then fished north of white rocks in my same old place (one might call it my fishing missionary position) and quickly caught 3 Lakers, 5#, 10#, and 16#. The largest was like pulling a parachute in, taking almost 20 minutes to net. The fish looked in good shape so I released it and it swam away, only to later surface and go belly up. I then circled the boat and netted it again, this time it went into the box. As it turned out, it was the reddest of the 3 fish and really lean, but all were good. All were caught in 150' water but there were some huge marks on the graph left behind.
16 Sep - John, Mike, and I trolled the Lower Harbor to the Chocolay for salmon but had no hits in under the 2 hours we tried. I then took them to shore (so they could go to work) and didn't mention I was headed for the Presque Isle Harbor. Upon arrival, there was a guy with his boat tied up at the one good launch with his motor cover off. I asked what his status was and he said he 'd been trying for a while but his motor wouldn't start. I asked if he minded moving his boat so I could launch and he became quite indignant that he should have to move. Of course, there never is any supervision from the marina office there. As Paul Harvey would say, eh, eh! After that auspicious start, I caught 3 nice size Lakers in under two hours in the ole 140' of water.
14 Sep - With small craft warnings up, it looked decent so I tried the Presque Isle Harbor early. Marked lots of fish but it looked like they all had their mouths sewn shut as there were no takers. I then headed north where the 2' - 3' rollers were coming in from the northwest while the 12 mph wind was kicking 2' waves from the south. It was what I call a 3-legged day, trying to stand in the boat. Missed my first Laker at 140' of water but marked the spot on the GPS. Later caught a 5# Laker and on the return trip, exactly where I marked and missed the first, caught a double, a 5# and 9# Laker. Note that I didn't mark but one or two fish out deep. Ironic but just what I've been saying.
11 Sep - With a slight break in the weather, tried for salmon at Presque Isle Harbor at dark-o-clock. I marked quite a few fish, supposedly salmon but no action and I didn't see any other nets flash. I then fished past white rocks in the 3' - 4' rollers and 12-mph west wind and picked up three Lakers, but you needed 3 legs to stand up in the boat. Lots of fish marks, mostly near the bottom in around 140' water. Largest Laker caught was 9#. Largest mark on the graph was 2".
5 Sep - Winds were calm and I was getting in trouble at home so I hit the water to look for some general coordinates given me where the bottom came up to around 80', surrounded by 150' water. I searched for 1/2 hour but to no avail. Thought I'd wet a line and caught 3 Lakers in an hour, two fairly small but I released all three as I was informed when I left home "Do not bring any fish home!" So I decided not to.
4 sep - With John Wells and Mike Reckker, we looked like Larry, Moe, and Curlie fishing the contest all lined up across the back of the boat. John provided the entertainment dinking around with his Dipsy Divers, one of which he lost in short order. We started out with several substantial hits, including some on the suspended lines and Dipsy but struck out. Later in the morning, we caught 6 Lakers, including a 13# one which we knew was nice but not a winner. Best we could tell, we came in 4th place (only 1st place paid) in the Laker category with the winner being 23+ pounds and a hog. The largest salmon was 8+ pounds and a winner in that category.
3 Sep - Caught two small Lakers in around 160' of water then couldn't buy the last one. Missed a nice one that slammed my lure but took the lure and all due to my lack of diligence to do my periodic stripping of line where it gets frayed. Finally, I thought I'd best check why nothing was happening on my good (starboard) rod so I checked it out, then started to lower it down when my other rigger hit so I stopped it at around 70'. I was reeling that one in (I was fishing by myself) when the suspended line (starboard) really took off. I released the first fish (about 4#) hoping I wouldn't have a repeat of yesterday. I could tell the one suspended was big and when I finally got it in (while going by the fishing boat Seaclusion) caught a 14# Laker. Something Fishy filled and left the same time I did.
2 Sep - Brother Ed and I headed out on a calm day in what turned into great fishing day. We caught 6 nice Lakers, 3 over 10# which went into the smoker when I got home.
We caught 5 fairly quickly, but they shut down for over an hour. We finally got the sixth in the box, a small one, and before we could crank in the other lines, we got another on and it felt pretty big. Well, I suggested to Ed to release the small one we just put in the box as it was still in good shape, which he did. Shortly after that, I lost the one I had on so now we were back to 5. So much for overconfidence. We finally got our last fish which turned out to be over 13# so that worked.
I washed my hands in the lake, only to feel the water as unusually cold. Checking it was 55 degrees, 10 degrees less than the day before. As we trolled around, it slowly increased into the low 60s. Harry (Crack of Dawn), if you're reading this, the sludge line was very obvious (Harry loves to fish sludge lines).
We listened to the chatter on the marine radio about all the fish various boats were marking and how hard they were trying to catch them. They must have been trying to catch marks because it didn't' sound as though they were catching fish.
1 Sep - Quick trip in the defiance of a windy forecast. Took my neighbor Len with and headed north of white rocks (where else when it's working). In short order, we hooked a Laker and lost it. Then we caught another on the port rigger so I slowed down the boat and raised the starboard downrigger up to keep it from hitting bottom. After resetting the port rigger, we caught one on that rigger. Then the other side hit about 15 minutes later, and then the steel line a little later. Bottom line - 3 of the 4 Lakers were from 15' to 40' from the bottom in from 140' to 190' (we continued further than I wanted while catching fish.) This was all the while I had the boat slowed way down too. By the way, waves were under 1' and it was beautiful. Only one other boat out. We had to go in early but nice work for 1 1/2 hours. Only marked two fish during the run.
30 Aug - By my lonesome in 2' rollers and the wind at 13 mph from the SE (5 - 10 per the NWS), it was still nice and fishable. Dropped my lines north of white rocks and was reaching for the Thermos, when I got a hit on the line I suspend around 20' - 30' from the bottom. While reeling that in, the other downrigger started bouncing and after netting the first Laker, I reeled in the other line, only to find two Lakers, one on each lure. For clarification, when I'm fishing myself, I run two lines, with two lures on each line. Perfectly legal. The two fish on the one line were each over 5#.
27 Aug - Guest John Greer (12) and I headed north to 140' water where we caught 6 nice Lakers, the largest being a little over 6#. John did a great job reeling them in and had what I thought was a great comment after fighting one Laker that gave him a surprising battle when he said "That Laker really didn't want to leave the water!" Although cloudy, it was nearly calm and slowly clearing and heating up as we got off the lake. Another great day. As we were leaving the ramp at 10:30, Harry with his boat "Hideaway" pulled up to launch. I call Harry "Crack of dawn" because his idea of crack of dawn is 9 or 10 in the morning.
25 Aug - In the fog and in calm waters, my brother Ed and I just set up the equipment and the second downrigger just hit 135' of water when we caught a 5# King. We later caught a 8# Laker, and by quitting time, we had 6 nice Lakers. However, the bonus was a 3 1/2# Coho on the surface at the last minute so we were rather proud of ourselves. We won't mention "someone" dragging a small Laker around for a while unnoticed. Fog hung in most of the morning but there were still several boats that would occasionally pop through the fog. What a great day! Yesterday, I fished by myself and struggled to catch 3 Lakers in 3 hours.
23 Aug - Rat and I took my 10-year old neighbor Tony Weston north of white rocks on a dreary morning threatening rain. Because of the weather, we only saw 3 other boats in the area, yet fishing conditions were quite good with the wind out of the SE at 12 -14 (5 - 10 predicted). It wasn't long before we caught a nice 4# Laker in 140' of water, followed by another a few minutes later. After catching a few more, Tony got to reel in a 16 1/2# Laker on the steel line and did a fantastic job of it. I believe that's the second largest we caught this year so far. Congratulations Tony! We caught our ninth Laker in a little over 2 hours.
21 Aug - Served as Coxswain (fancy word for flunky in this case) on the charter Catch-A-Finn. Capt Jim Maki, mostly recovered from recent surgery, requested as a favor that I help him crew a run to Stannard Rock. What a run it was on a beautiful, calm day. Within 3 hours, we caught 24 Lakers, ranging from 4 pounds, most probably averaging 8 pounds, to the largest of 20 pounds, with 3 over 15 pounds. We jigged in from 100' to 170'. I counted 10 boats around us. Most were doing fairly well but I doubt any so well as us. Capt. Jim is fantastic as he knows the area and techniques that work.
19 Aug - Rat and I took Scott James Bushey, an neat 8-year old, for some great fishing north of white rocks. Scott was a real trooper reeling in each of the 9 Lakers, including the largest, a 12-pounder. Scott was a pleasure to have on board with his good manners and disposition. It was Scott's first experience on Lake Superior as he usually fishes inland lakes and streams. I took pictures of Scott and the fish and hope to post them in the near future. Most fish were in the 140' to 160' depth. We're not sure whether Rat and I had more fun watching Scott catch those fish, or Scott catching them.
18 Aug - Friend Tony Pearson (Ironwood) and I fished north of white rocks in 140' water and caught 6 nice Lakers in a relatively short time. The water was nice for a change and the threat of rain didn't materialize. With 6 in the box we were hauling in our gear and Tony discovered a 3 pound Laker wrapped in his line with the lure not even hooking the fish. We released that one but thought it strange.
15 Aug - Rat and I took a 12-year old guest John Greer fishing north of white rocks. It was John's first time on the Big Pond and he really seemed to enjoy it. It was a bit bumpy at first and he looked a little ashen but quickly snapped to when he caught his first Laker. John hauled most of the Lakers, including a 7# and 5#. He also missed one right behind the boat so he now knows what we knew - sometimes you can do everything right and still not catch them. All in all, John was a great guest. We ended with 7 Lakers, plus returning one small one. Most were in from 130' to 150' of water.
14 Aug 99 - The lead inmate from the asylum (me) took myself out under NWS forecasts of 5 - 10 mph from the West. Guess that means 12 mph and 3' seas. Anyway, I fished 138' - 160' of water north of white rocks (within 2 miles) and caught 4 nice Lakers in 1 1/2 hours. I had two Lakers in the box and when the third fish hit, I cranked up the other rigger to minimize catching a 4th. Voila, it didn't work and I got a double so I ended up releasing the last one. Sizes were nice with the largest 7 1/2 and next 5 1/2 pounds.
11 Aug 99 - Headed north with guests Gary and Dan Gibbs on nice water we caught 10 fish, one being a 2# Coho caught deep in around 140' of water, the rest being Lakers with the largest 8 1/2#. We missed several, as did the boat Minerva fishing nearby. When I got home, my wife Mary asked what I had planned for the rest of the day. I very stupidly said I had a few chores to do and planned to relax for a bit before starting them. I believe her words were "I thought that's what you were doing. Tell me again how much work fishing is!" Oh, oh!
10 Aug - Rat and I went out in the drizzle and slowly calming waters to set up in 150' water. Wham, wham, and wham - a triple within 5 minutes, all 4# to 6#. We then caught a 2# and released it. Within an hour we had our 6 Lakers and were headed home. The weather had gotten beautiful and it was a very good day. All the fish were caught in 140' to 160' of water. Only good self discipline kept us from gloating when the charter boat near us had only one fish.
9 Aug - Finally after a windy session, got out by my lonesome and on a relatively calm morning. I quickly hooked a large laker probably over 7# and decided to leave it thrash right behind the boat until I got my net ready and move something else. When I picked up the rod to reel the laker in, he took one roll and away he went. I said $%&#@ and noticed the other rod jumping, this time a 3# laker and more manageable. I quickly got my limit in less than 11/2 hours, missing still another. Most were in less than 110' with a couple suspended around 20' off the bottom. Those fish are now smoked and in my refrigerator.
5 Aug - "Rat", guest Ron Rabe (California), and I headed north in bumpy water (which later settled down) early in the morning. Within 45 minutes we hooked 9 Lakers and boxed 6. Ron had a big Laker on right to behind the boat and he now wants us to refer to him as "Catch and Release Ron." I asked him how big the Laker was and he said "about 1 1/2 times as long as our biggest (7 1/2#)." I'll ask him again tomorrow. Most Lakers were in around 110' of water.
4 Aug - Winds again picked up at 12mph from the NW so we got our exercise trying to stand still in the boat in the bouncy water. We caught 6 Lakers in a little under 4 hours but also missed 6 more fish that we had nearly to the boat. One was a Coho that the netter (Rat) removed the hook from while netting and the Coho neatly swam away. For punishment, the netter was given a temporary demotion from Boatswain to Coxswain. We checked with another boat fishing nearby in 120' and they had not a hit all morning but said they did well the day before fishing that deep.
3 Aug - Headed back to the "ole hole" and picked up 6 nice Lakers, again 110' to 150'. Water was bouncy but settled down nicely. Largest was 8 1/2#, the rest running around 4#, all leans. "Something Fishy" had 4 Lakers last we talked with them.
27 Jul - Rat and I bounce our way up to Little Presque Isle and picked up 6 Lakers in slightly over an hour. It was a beautiful but a bit breezy. Depths ranged from 120' to 150'. Catch-A-Finn hit some nice salmon on Dipsy Divers (I hate those Dipsys).
25 Jul - On the 25th, fishing by myself I quickly caught one nice Laker and later got a radio call from a friend fishing a couple of miles further north who told me he had caught two. He informed me to "keep fishing this way!" I guess that meant that he was really into the fish big time as he had one more fish than I had. Shortly after I hung up the mic, I got a double, one of which I missed because the netter (myself) wasn't doing too good a job. I later picked up the third Laker suspended about 25' off the bottom.
23 - Following my old principle of continuing to fish where I last caught them, "Rat" and I returned to Little Presque Isle and 150' water. Wind was supposed be SW 5 - 10 but instead kicked up to 20 mph NNW, clocking NNE. Although it got a little breezy and bouncy, we caught 6 nice Lakers in around 2 hours and missing a pretty big one.
22 Jul - Fished off Little Presque Isle in 150' water with guest Bob Schmeltzer. Caught 6 nice Lakers in around 2 hours. All were congregated in one spot and we kept circling to pick them up. Water was flat as a pancake and the air heating up fast on a hot day.
18-2 Jul - Fished Lake Michigan for Chinook and were completely unsuccessful. Fished hard Poverty, St. Martin, and even (don't tell) Rock Island in Wisconsin. Most all boats were complaining they had not so much as a hit.
15 Jul - My Brother Ed and I fished in fog/haze conditions but calm water off Little Presque Isle. Caught 4 nice Lakers but it was slow going. Of course I had the biggest Laker of the day on and the netter, albeit a rusty netter, cleanly removed the hook from the fish which we'll log in as a "released" fish. Ed earlier dug into his old tackle box for a lure and it was easy to select one as they were all attached together. He finally selected a beautiful lure I had never seen before and fished with it for a couple hours without success. He said it had been in the box for 29 years and this time "it's going to be in there for a long time." Hmmmm! What's 29 years?
14 Jul - Got a new graph and suggested checking it out Wednesday evening. Brother Ed went with and suggested tossing in a line on a beautiful evening after the wind stopped. Caught two nice lean Lakers in one hour so we quit just as the sun went down. Both were at 140'.
12 Jul - Being a creature of habit, headed back by my lonesome to our productive spot of yesterday. Slowly picked up two 4# Lakers and was trying for the third. Guess what, I caught another 4# laker and while it was still in the net, I noticed my other downrigger was jumping more than usual, indicating a fairly large fish. Well, I decided to return the fish I had just netted in hopes of getting a larger one, but risking not getting the last one either. Anyway, I go it in the box and it turned out it was about the same size. All the fish were good fighters today which stands to reason when you're doing your own netting and there is no one else to blame for a bad net job. All fish were caught in under 120' water and a couple were suspended 20' or more off the bottom.
11 Jul With guest Jim Bystrom, fished 150' - 170' and caught a couple of small Lakers after a few hours work. Started to troll back and suggested we hit a spot where it goes from 109' to 165' in a very short distance. Well, we hit two 7# Lakers there so we circled and caught the last one, a 6# lean like the rest. Smoker time!
8 Jul - Took guests John, Darryl, and Scott Fox north around 8 miles where we slowly caught 6 small Lakers and a 2 1/2# Chinook. Beautiful water and nice time. Got off just before the rain started. Most were in 165'+ even though we tried the 135' for a while. Watch out for nets. They're all over the place.
30 Jun - Tried 72' water and got zip so we moved to 165' and got a triple. Got another Laker then it shut down for the next hour and a half. All fish were small with nothing over 4 pounds. Note, we still haven't gotten a "fat" this year, and that's over 140 fish. Others report similar results with very few fats being reported. Same for catching more small fish than prior years.
26,27 Jun - Saturday our guest was Dr. John from Munising on a beautiful day near Shot Point. We caught 7 small Lakers, again around the 160' level. On Sunday, guests were my neighbor Len and his nephew Tim visiting from Minneapolis. We managed 6 Lakers in 2 1/2 hours, sizes a little larger than Saturday. We got off the lake and home just before the thunder and lightning and rain came.
25 Jun - Eight dinks in 165' on a flat and beautiful Lake Superior near Shot Point. Late in the day with my neighbor we tried north of white rocks for an hour and got squat - two hits and two marks but nothing in the box. The currents were as bad as I've ever seen them. We just crawled along and we could hardly hit bottom. Anyway, we took a ride after to see the eagle's nest on north Partridge but we saw no activity. Discussion: I mentioned I had talked with a fisherman on the 18th and he said he was fishing 214'. You've got to have respect for someone that doesn't round the depths. It implies precision where 210' might not be productive nor even 212'. I might adopt this technique. I may even go to feet and inches. Then people might really think I know what I'm doing.
24 Jun - Trolled from the sand hole east in 165' water. Caught 6 Lakers in 3 hours. They all qualified as "dinks." On our return trip we stop by a boater we knew to see how they were doing. They didn't have anything but the captain (16' boats have captains too) kept telling me about all the fish they were marking. I checked my graph, which showed nothing. I asked if he had his fish ID on and he said yes. I suggested he turn it off and look for arches, instead of those fish icons the graph puts on the screen. He didn't think that was a good idea (or he didn't know how). Philosophical comments: It is my feeling that fish icons on graphs are close to useless. My observations are that fishermen who use the fish ID or icon setting (they usually default there) firmly believe if a fish icon shows on the screen, it must be a fish. They don't seem to realize that lots of things are interpreted by the graph as fish icons, including static, interference, GPS, bottom echoes, and who knows what. Note that we had 6 fish and marked only one or two fish. The other boat "marked" tons of fish icons but had nothing in the box. Think it's the lures? First thing I do is turn off the fish ID and turn up the sensitivity. Now an arch or at least a partial arch - that's a fish. Otherwise, the most important use of a graph for lake trout is to show depth, not whether you're marking them. ) Obviously, if you can get a graph that shows them, that's better, especially if you're jigging.) Then get your lures/dodgers/whatever near the bottom. IMHO (in my humble opinion).
On a beautiful night, I couldn't sit still so I took my 14' boat for a ride around the Island and up around Partridge. Didn't even bring fishing gear. While cruising along, I looked over at Partridge, about a half mile away and saw a jet ski and a couple waving their hands on the island. I drove over to find they were out of gas and stranded. I then towed them to their home a couple of miles away. They were pretty glad to see me. An eagle sat on Partridge and watched us go by. What a beautiful sight.
22 Jun - Guest John Ovink and his son Mike. It was rough at the launch site with a strong SE wind so we fished 40' water along the south shore. Caught zip there so we move to deeper water (165') where we quickly caught 4 small Lakers (bigger than dinks). Ironically, it was nearly calm 3 miles from shore and when we returned to the launch, there were whitecaps again. I call it the nearshore wind phenomenon (I can make these terms up too, like Karl Bonehead).
18 Jun - Had 4 guests from Chatham, Bob, Dale, Steve, and Bill on a beautiful, calm morning. Caught 11 Lakers in around 3 hours, and missed several more. All were fairly small and ran around 155' - 170'. Talked with several other boats, several had only a few and one had 6 Lakers and a Coho but had been out all day - fishing in "214'" water.
16-17 June - Fished shallow for a couple of hours and caught zip so we moved to deeper water, roughly 165'. We then caught 7 Lakers in 1 1/2 hours. Water has been beautiful both days. However, on the 16th I awoke to rain, which was not predicted. Winds were initially 12 mph from the South, whereas NW was predicted. After that, it got better.
15 Jun - Caught 5 Lakers and 2 Coho in 145' - 175' water east of upper harbor. Coho were on surface. It was a beautiful, but cold day with the air 45 degrees and surface water temperature dropping for over a few days ago to 48. Wind was NNE which proves you can catch fish with an easterly wind...sometimes.
13 Jun - Fished 3 hours east of Marquette and had caught 3 nice Lakers. We had to make our trip short so guests John "Flash" Mattis and his son Johnny were pulling in lines when "Flash" said his rod was not budging. Twenty minutes later, we netted a 28 pound Lake Trout, my new boat record. We were in 175' water at the time.
12 Jun - Left and returned in the fog and it was nice to have the radar and GPS. Tried 50' water but didn't mark anything or get any hits. Moved deeper and got 6 Lakers (one I'm a little embarrassed at keeping as he looked bigger in the water) all between 155' and 175'. Inspection of their stomachs showed two were full of ants. Right - ants! Ideas anyone?
7-9 Jun Caught 3 lean Lakers, 4# - 7# in 50' water one day and got skunked the next day. Thunderstorms headed in next several days.
5 June - Lake Superior was rolling so we fished a small inland lake for some rainbow. Each of us caught 4 rainbow ranging from 10" to 12", plus we released several slightly undersized ones. Boy they put up a fight for their size! Lots of fun. Got checked by a CO but passed. Mosquitoes were horrible!
4 Jun - I remembered where we went yesterday, went back and caught three 5# - 7# Lakers. We also missed 5, one where the knot came out when the fish slammed the lure, losing the fish and lure. I watched my guest tie on another snap swivel with a barrel knot, but I noticed he didn't go through the second loop. It was awkward but I asked to see the knot and pulled on it. The line pulled right out of the knot at the swivel without breaking the line. As he was a seasoned fisherman of many years, I was reluctant to point out what happens if the last loop isn't completed and that I had learned this same lesson the hard way too.
3 Jun - Fantastic day fishing. Beautiful waters and perfect temperature. Caught 6 Lakers and a Coho in a little over 2 hours. Can't remember where though. Also missed 3 more Lakers. Plan to hit it tomorrow before the wind kicks.
28 May Fished east of Presque Isle and quickly had a hit in 170'. Picked up 4 Lakers in 3 hours then needing 2 more, caught a quad (4 on at once), including 2 on one line. Returned 2. It was a beautiful day. Guest Jim Bystrom brought me a Murphy's Law book so I questioned him had he thought my fishing had gotten so bad that I had time to read or was it that I might add a few laws of my own to the book.
27 May By my lonesome, caught 3 Lakers in 160' water. On my return, I stopped in the sand hole and found the drifting net that was out there for 2 years and pointed it out to the DNR boat that was out there searching for it, along with several other boats. I didn't stick around to see what they hauled up but presume they pulled it up. I'll contact the DNR to see its status next week.
20-22 May - Fished Conway Lake pretty hard and came up with one undersized walleye, but lots of hammer handle Northerns, and some small perch, rock bass, and pumpkinseed. An eagle swooped down right behind my boat and picked up a Northern Pike I'd returned and another eagle tried to take it from him. It was a beautiful sight. Also saw a couple of Osprey.
15-17 May I've been walleye fishing inland lakes as well as some Lake Superior salmon. It's the story of my life - "...should have been here yesterday as we killed them." However, I'm going to try again and eventually bumble on to a few of those great fish.
12-14 May Tried for salmon in the upper harbor and got frustrated when several others caught them and I didn't even get a hit. However one day I caught two and one of the crackerjack salmon fisherman didn't get any. Tried deep for Lakers Friday and marked several from 145' to 160' and finally caught a small one, missing two. Still very slow yet as it took a couple of hours. Friday was a sunny, calm day with the air 41 degrees and water 43.
9 May Finally got out after Lakers and slowly picked up 3 respectable leans, ranging in depth from 125' to 165' north of white rocks. Wind picked up to 16 mph but gradually back down and clocked around from 350 degrees to 180. Air temp was 41 and surface water 43.
8 May Got a call from a friend that he'd caught some Chinooks in the Presque Isle Harbor so I packed up and went after them. The wind went from calm to 25mph, mist and fog rolled in, then we hung a downrigger, and the Coast Guard checked us out (no problems). We bunched it within an hour, nothing in the box. We call those experiences "Goat Ropes!"
1 May Caught 4 Lakers, including one 10# in from 135' to 165', north of white rocks. It was a beautiful, sunny day with the water calm and 42 degrees, same as the air. Typically, we returned to shore with winter coats, etc. where it's 25 degrees warmer and had to shed several layers.
28 Apr Disastrous "Net Day". On a beautiful and calm day, fished for Lakers east of Marquette, starting in the sand hole. I noted on my GPS an icon flagging where I hung a net last year and we raised our downriggers. That didn't work as we hung one downrigger and managed to see a yellow antifreeze bottle suspended on a line about 10' under the surface. I looked through my notes and saw where I called the DNR on this drifting net last July but they couldn't find it. I got a new GPS coordinate and called again. Then about an hour later, approximately 2 miles further east, we hung another net, this time a DNR net in 165' water. All it had was a small black post and not even a flag on it. Seems Thills puts these survey nets out for the DNR. Anyway, I lost considerable tackle in those nets. I complained to the DNR fisheries people about not having flags and running 6,000 feet of net. How is one supposed know where these nets are? Fortunately, I got some of my tackle back when they pulled the nets. I may start a net log to track these obstacles.
26 Apr Fished salmon from John Wells' boat. John was the perfect host and we caught 4 Chinook and one Coho. John's netting was great except for the Coho, which he lifted into the boat hanging from the treble hook outside the net. John said the sun was in his eyes. OK! That's more salmon that I caught all last year. I shall not gloat, I shall not...
21 Apr Again tried for salmon on a miserable, foggy, drizzly, crappy day but got skunked. Bad news is others caught some Coho and at least one Chinook. Hmmmm, may have to look up one of my fishing excuses or make one up.
20 Apr Tried for salmon but no luck. Moved out to 140'+ water and no Laketrout until we hit 165' - 185' where we caught 5 "eater-size" Lakers.
19 Apr Caught a 2# Splake in Presque Isle harbor but no salmon. Saw a couple salmon caught though. Didn't try for Lakers.
14 Apr Tried shallow for salmon but no luck. Finally wandered into deeper water and caught a 4# Laker at 130'. Another beautiful and calm day.
13 Apr Caught 2 small 2# Coho. Per DNR fish surveyor, of 18 boats checked, 9 had no fish, and of the 9 that had fish, 5 had only one. And we thought we were doing poorly. Actually, it was a beautiful, calm, and sunny day and the fish were a bonus.
12 Apr Caught a 7# Chinook Salmon and 5# Steelhead near the Presque Isle harbor. Both were caught while trolling spoons, one near the surface, one approximately 20' down.
8 Apr 99 Shakedown cruise for 2 hours but didn't have any hits. A few other boats gave us a finger(s), hopefully indicating they caught a few fish. Fished shallow in hopes of a Coho or Chinook. I fished with someone else the day before and jigging, caught 6 Coho in 45 minutes.