Marquette Area Veterans Memorial Mall
Dedicated 11 November 2002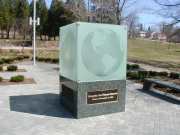 The Marquette Area Veterans Memorial Mall is located in the middle of Harlow Park on Washington Street, Marquette, Michigan. Its purpose is to honor veterans from the Marquette area that have served their Country at any time and in any Branch of Service. Bricks currently installed through June 2017 are indexed to their locations in the Brick Database you may look at below. I created an Adobe file so it's a decent size which will speed downloading and improve the search feature.
The database is sorted by last name and includes a list of donor-submitted information and comments about the honorees. A printed listing is available for viewing at the kiosk at the Veterans Memorial Mall and at the American Legion Post 44. If you see something that needs correcting, have questions or suggestions. please contact me.
Brick Index

Log is sorted alpha by last name. Last column shows section and row and sometimes position within row.
Brick Layout Schematic
Look here to see brick location when you visit the Memorial.
Pictures of Bricks
Pictures of 2002 through 31 March 2017 bricks. Rows are numbered on bricks pictures with chalk.
Dedication Pictures
These are pictures I took at the 11 November 2002 dedication and some others taken since that time.
Vet

Memorial Sign
Here are pictures of the new mall sign installed in November 2003.
Brick Donation Form
Please note brick requests received before 1 April 2018, will be installed in May or June 2018
.
Brick request form
is in Adobe Acrobat format (PDF)* and ready to print. I added another

Brick Request Form

that allows you to type your data in it, then save or print it.

Mayor Tom Tourville's 4 July 2007
Rededication Comments
Comments by Marquette City Mayor Tom Tourville at the July 4th, 2007 rededication.
Rear Admiral Day, distinguished guest speaker
Bio for Rear Admiral Steven E. Day, guest speaker at July 4, 2011 Memorial rededication.
Virtual Wall - Vietnam Veterans Memorial
The link left is a virtual wall of all those lost during the Vietnam War with the names, bio's and other information on our lost heroes.
*If printing the brick request form above doesn't work, forms are available at the American Legion Post 44, Memorial Kiosk, and the Range Bank branch on McClellan Ave. (across from Shopko).
Click here to return to Joe's Lake Superior Fishing Home Page