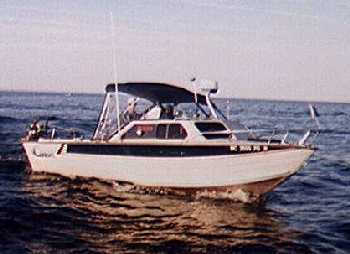 Welcome to my fishing site. This is my 5th year with this web site. I've synopsized trips of possible interest to you and those with guests. My boat is appropriately named "Cooler By The Lake". I am just a plain fisherman that loves to fish Lake Superior and I do not run a charter. I'll try to update my reports every couple of trips, daily if possible. Thank you for following us on our fishing journeys. Please if you have any questions or suggestions on my reports or narratives. Compliments are also welcomed. Don't forget to visit my new Joe's Woodshed

Marquette, MI

"Cooler By The Lake"

2000 Fishing Report and Analysis

9 Nov 00 Analysis and Summary. My fish per hour rate dropped from 1.67 last year to 1.58 this year. I was surprised by the decrease because I had one of my best Spring and Summer seasons. Fall is usually my best time to fish, including the biggest Lakers. However, because of Indian nets saturating the area, not only did I feel there was a reduction in the larger, spawning Lake Trout available, I was precluded from fishing areas I always fished in past years.

Following last year's 13 skunks, I had 6 this year, mostly caused by bad weather moving in unexpectedly.

Thank you for looking in on my site and I hope you enjoyed it as much as I did keeping it up. I plan to do some ice fishing this winter and may post some results (that ought to be interesting as normally unproductive walleye fishing and deer hunting come to mind). Please join me in the future and drop me a note, albeit a short one, letting me know your thoughts. If your thoughts agree with mine, I will think of you as a very wise person. Thanks again.
Fishing summary for 2000

Trolling Hours

330

Trips

106

Fish per hour

1.58 (1.67 last year)

Total fish caught

490 (includes released fish)

Skunks during year

6

Number & average weight of Lake Trout

3.5 lbs. (5.9 lbs. last year)

Average weight of Lake Trout w/thumb on scale (just kidding)

3.9 lbs.

Number & average weight of Steelhead

2 average 5.3 lbs

Number & average weight of Coho

7 Coho averaging 1.7 lbs.

Fish per hour rates 1984 through 2000

.39, .74, .75, .89 1.08, .92, 1.21 1.29, 1.38, 1.21, 1.54, 1.57, 1.63, 1.51, 1.30, 1.67, 1.58
2000 Fishing Log
31Oct One more last time as the song goes. With a revised forecast for reasonable winds, the lead inmate in charge of the asylum (me) headed out late morning. There were already 5 trailers in the lot. The weather was beautiful and in about a half hour I hit a 3 1/2# Laker at 25'. Two more Lakers followed in the next hour that were larger but not the size I'm used to seeing this time of year. The Indians were setting nets with 500 feet of my favorite spot but that didn't affect me a lot. Supposedly, today is their last day of fishing per treaty until 29 November. Four of the same five trailers were there when I got in and the one that came in didn't have a hit. Anyway, I've decided this is the last trip for "Cooler By The Lake." It was a nice note to quit on.
30Oct Another windy day but perhaps the last fishing of the season. We hit a 5# Laker rather quickly and missed two others, one right behind the boat. After 3 hours, we had just the one fish in the box. The wind was kicking at up to 20 mph and we watched a 12' boat bounce around in some pretty rough water. We marked very few and when we talked to one of the other boats, they had no hits at all and were quitting for the season. I mentioned it might be easier to quit that way, rather that really nailing them and not putting up the boat when the weather is decent. They agreed.
29Oct The frost was on both the pumpkin and the launching dock. Steam was coming off the lake as the thermometer showed 33 degrees. The Indians had just pulled their nets and thrown dead suckers caught in their nets in the marina parking lot so that wasn't very pleasant. It was an otherwise beautiful morning with the sun peeking out as I set up in 40' of water. Within 10 minutes, I had a nice 4# Laker netted, followed by a 4# and 5# Laker in the next hour, each fish on a different rod and lure. I took a few minutes to drain down the engine and out-drive after quitting as each trip this time of year might be the last.
25Oct Today was a morale booster - 5 nice Lakers and a Coho in 3 hours. Winds kicked but were somewhat manageable. We were the only trailer on the marina lot except for the two Indian fishing boats. Most fish were caught around 25' down.
24Oct Super nice October day - sunny with almost no wind. We fished shallow and caught 2 Lakers on the Dipsy, no hits on the riggers. Action was so slow we moved to deeper water where we caught 5 Lakers but released 2. Marked very few.
23Oct Today included a lesson in humility. I started in 30' of water and quickly got a hit that peeled line off the rod, unlike most Lakers and I knew it wasn't a salmon. I finally made some progress reeling it in and suddenly it was gone. It had to be a biggie. Fishing conditions were fantastic but the only other boats in the area were the DNR Judy and the Indians hauling their nets. Then an acquaintance showed up and kicked my butt catching 6 Lakers right along side of me while I had only one fish in the box. Quite frustrating as I thought I was at the same depth and speed and lures and all. Maybe not.
22Oct I headed out in brisk winds and was the only trailer in the marina lot. I started at 40' of water as winds kept increasing. However, after about an hour of no hits and few marks, I hit a 6# Laker, quickly followed by two more Lakers. The last Laker was a gift as my light line had somehow (winds were now at 18 mph) tangled in my rigger line on a sharp turn. It was a real dog's breakfast with lines all over the place but I got a break and netted the fish.
19Oct Skunkaroonio! Tony and I headed out in increasing winds to few marks and no hits and winds building to 20 mph. After 1 1/2 hours, we pulled the pin.
18Oct Tried shallow water and struggled to pick up two Lakers in 50' of water in 3 hours. Ironically, one was on a Dipsy but I still don't like them. Predicted winds didn't develop until well after they were predicted so the water was great. Fun! Boat Something Fishy caught an 18.5# Laker in 150' of water.
17Oct Fished 40' - 60' of water and picked up 3 Lakers and a 4th in 90' of water. One Laker was on the surface.
16Oct In drizzle, with promises for clearing that never materialized, Tony Pearson and I fished 60' of water and caught 2 Lakers and a Coho in 3 hours. Avoiding nets was difficult. "Something Fishy" hung into nets not marked on one end and lost all his tackle. However, he talked with the Indians and when they pulled the nets, he got all his gear back. In the afternoon, I fished north in 140' water. My first hit jiggled the downrigger then nothing. I took the rigger up all the way without any indication of a fish being on. Well, it was a 5# Laker that enjoyed the ride and came alive on the surface and fought like crazy and neatly tossed the hook and swam away from net. Again, after about an hour, a hit and nothing. This time, it was at least a 10# Laker that came to life at the surface and it too swam away a free fish. Ironically, both were on the rigger I had about 20' off the bottom. I did end up with 2 Lakers but my netting skills were not too sharp today. Tony will testify to that.
12Oct Not to pick on the weatherman but despite the forecast for fairly light winds, guest George Altmann and I wrestled 20mph winds from the south and 3' waves for a couple of hours until they slowly died off somewhat. We hit a nice 6# Laker shortly after we got the lines down. We raised the other rigger to 110' so it wouldn't be a problem and we got a hit on it. We then went quite a while before hitting our third. We also missed two, one right behind the boat. We pretty much stuck to the 130' depth. Of the two other boats I talked with, one had two Lakers, the other nothing. I'm beginning to believe all the netting has been having an adverse impact on the number and size of the Lakers. Enough said about nets. George and I had a great time and probably did more BSing than fishing, which was great. He had some great tales of fishing in the 40's and 50's through the current times.
11Oct Talk about a beautiful, sunny day. Gentle rollers and light winds made for a super day on the water. Problem was the fish didn't know conditions were perfect for fishing and were slow to hit. We fished north of white rocks in 130' - 160' and slowly picked up 7 Lakers, the largest 6#. We released 3 small ones of the 7. George had a really big Laker on the steel line and it fought hard all the way up to behind the boat, only to get off a few net lengths shy. Oh well! Today the Indian net situation was worse. New nets between the breakwater and white rocks - marked only with plastic jugs - no flags. The net north of white rocks has only one end marked. Several other boats nearby us scoured the horizon for the other end but couldn't find it. We had to avoid about a 1-mile circle around it, making one of our favorite spots off limits. Another net between white and black rocks has a flag but it's lying on its side. Not adequately marking nets is like spitting in the face of us sport fishermen. That's not very nice. We're not asking for that much. Please mark the nets so we can see them.
10Oct After 5 days of wind, Tony Pearson and I tried the shallow fishing but marked little and had no hits so we headed to deeper water. In bumpy water with 3' rollers and a steady north wind, we went almost 2 hours before getting a hit. Marked very few. The Indians were setting nets north of white rocks and while we were within 500' of them, I never could see either end of the nets so I had to turn around. We finally picked up a few small Lakers and ended catching 6, releasing a small one. However, our largest was 4#. Seaclusion fishing nearby caught 5 Lakers, including two over 10#. I'm still mystified where the suspended fish are as they're usually in this time of year. None were caught on my stacker lines.
5Oct On what was to be a light and variable winds day, Rat and I headed to 140' and some bouncy conditions. Passing by white rocks, we saw two eagles sitting about 20' from each other. Of course, there were no seagulls or cormorants around. We caught and released 3 small Lakers but marked several big fish near the bottom. We finally connected on a few more "respectable" sized Lakers and just before quitting in 16 mph winds, caught a 4 1/2 pound Steelhead. Super. The air temperature was 42 degrees so we were not disappointed to return home with 4 nice Lakers and a Steelhead.
4Oct I foolishly listened to the weatherperson yesterday but not today. Tried Presque Isle harbor but neither caught nor marked a fish. I worked deeper where I caught a 4# Laker in 70' of water and turning the north corner to open water, hit another at 120. The 4'-5' rollers and 16 mph winds provided exercise causing me to walk in place in the boat. I finally picked up a third Laker, a 5# lean sometime between where the boat was going 3 1/2 mph and stopped in its tracks from the waves. One of the Lakers was wound tightly with gill net mesh and probably would not have survived too long anyway.
2Oct Windy doesn't adequately describe conditions for the past month or so but it'll do for now. George Patrick and I headed out on a rare calm morning to 150' of water. We marked several big fish and finally caught a 4# Laker. Then the wind began from the north and within 20 minutes, we were in 20 mph winds and 3' seas. We picked up a second Laker and booked. It was still fishable but not fun which told us it's time to go.
28Sep Ah, ha said I! A decent wind forecast so out Tony Pearson and I headed to 150' of water. Wrong! We fished with steadily increasing winds, catching 4 Lakers, including 12.5#, 9#, 6# and 4#. We also marked a lot and missed 4, all in an hour and a half. Finally, with winds honking at 20 mph, we bailed out but felt we had done well. I must be becoming a whimp, because several other boaters I know were still out.
25Sep The "Rat" and I headed out on what appeared to be a calm morning but we turned the breakwater to find many big lumps in the water and a steady 12 - 14 mph wind from the north. However, when we hit the 140' water and trolled right into the wind, nothing happened for nearly a half hour then wham, a triple but we missed one. Then we picked up 4 more in the next 45 minutes and headed in with 6 nice Lakers, all from 3# to 5#. The Indian fishermen were at the launch so we talked with them and I suggested they use something like orange to mark their nets, better than the current black which is very hard to spot, especially in rough water. They said no problem and hopefully, they'll do it.
24Sep Despite another "lumpy water" forecast, I tried the shallow water again with the same results - zip. I slowly trolled towards deeper where I hit a Laker at 70' and kept fishing to 140' where I hit three more, the last two being a double when I only needed one more. Anyway, it was bouncy with 3' - 4' rollers but otherwise not too bad. Only one other boat was out and he didn't leave the harbor.
22Sep My guest Jon Starr and I set up in shallow water at dark-o-clock but found no suicidal fish so after around an hour and a half, we moved to 140' of water. It didn't take too long before we had a nice 3# Laker on that was a real scraper. Before long John tied into a 10# Laker that was a real hassle to get to the net. As the wind again increased to 16 mph from the SSE, we picked up our 7th Laker (we released a small Laker) and returned before the rain started. Although we ran stacker lines about 20' up from the bottom, none of the fish were caught on the stackers. We graphed (we hear it oft pronounced grafted) tons (marks are heavy I guess) of fish, but few were suspended.
20Sep First chance to get out when the wind wasn't honking, Tom Erspamer and I tried shallow for salmon. We had no hits but marked a fair number. We then headed to 140' water north of white rocks while the winds built to near 20 mph from the south. We hit two Lakers, both near 6# each about 20' from the bottom. They were both caught on Tom's lure so I asked Tom what the lure was called and he said "Secret Lure." Hmmmmm, I replied, seems that's a pretty common name. We also missed a real throbber on the steel line but that lasted less than a minute.
16Sep Following a couple days of winds huffing and puffing, Rat and I headed out to sea towards deeper water. Rollers were still large from the day before. As we went past white rocks, Rat pointed out no seagulls or Cormorants were there. Then we saw the reason - a beautiful eagle was sitting on the main rock. Guess he didn't want company. Anyway, we fished north in roughly 170' of water where we picked up 6 Lakers, all between 3# and 4#. Winds slowly were building from the SW at 14 when we left and predictions were for more wind. What's new?
13Sep I went back to the well once too many times. With John Wells and "Crack-o-Dawn" Harry Purvis, we tried in the early dark-o-clock hours for salmon and again in the evening when Tony Pearson joined me. We were also joined by our neighbor Mike and his friend Ben who happened by the launch. Yup! Zipididoda both trips! Not even a hit by a Laker. Next trip I think I head to deeper water.
11Sep Despite threatening weather reports, it was a beautiful morning so as lead inmate (fishing by myself), I set up the first line and was just starting to lower the rigger when the line released and the reel started screaming. My first reaction was what did I hang up on now? Well, it was an 8 1/2# King that was all over the lake. Never caught a single Laker but did have another King on but only for about a minute. He just kept booking and just like that it was gone off the line. Only action all morning but what a great morning.
10Sep With black clouds in the west, I thought we'd set up for some relatively close fishing in around 40' - 50' water. It wasn't 5 minutes and we had a 5# Laker. Then the other rod started singing and we landed a 9# King. Before long we caught 4 Lakers, another King, and missed 3 Lakers off that stupid Dipsy Diver. Then they shut down.
8Sep George Patrick and I headed north of white rocks and looked for 10 minutes to find the other end of the Indian nets which are extremely hard to spot. Once found, we started in 150' and worked to 170' of water where we slowly caught 6 Lakers, including two 8#. There was a lot of whining on the marine radio about how slow it was, including the 4 charter boats. We too missed the first three fish but that's fishing. Anyway, there were a few others that talked about getting their "limit" so I explained to George the difference between using the dignified word "limit" and how much more impressive it sounds than saying "I got 3 Lakers or even we caught 6 Lakers."
5Sep We finally got a break in the windy weather. I took neighbor Len Ruushka and visiting brother-in-law Westley Audio on a short notice fishing trip north of white rocks. We started at 150' but didn't produce much until working towards the 180' where we caught 6 nice Lakers, and missed a few in 2 hours. One Laker was suspended about 25' from the bottom.
2Sep Marquette Bay Classic Fishing Tournament. The surf was up all day Friday, the day before the contest and there were dire forecasts for the contest. However, small craft warnings came down at 5:00 a.m., exactly when the contest was to start. However, the waves and rollers at 6'+ didn't know that. Dave Smith, John Wells (see Mining Journal photo), Mike Reckker, and I headed out in the very big rollers in the dark. The wind wasn't bad but the rollers made for lots of boats with sea sick people and we were no exception. We caught 10 Lakers, the largest 9# and managed to place 7th with the total weight of 37# for the 6 largest. First place went for combined weight of 44# so it wasn't a big spread. We just didn't hit the big one(s) that would have pushed us over. Anyway, it was lots of fun and our thanks to those volunteers that put the contest on. If I'm able to get the statistics for the various categories, I'll post them.
30Aug Bound and determined to catch a salmon, John Wells and I hit the upper harbor early morning at dark-o-clock and managed to catch only a Lake Trout - no salmon. Funny story. Doug went by us at 8 o'clock and said to his partner "Joe must know Lakers are in shallow" not knowing we were after salmon. They then went deep where I usually fish for Lakers and had no hits. They then came in to where we were fishing (we had left already) and caught 3 Lakers shallow.
27Aug Visiting nephew Tony Pace and I headed north of Little Presque Isle and started at 110' and before we could set a second rod or ready the net, we had a 6# Laker on. We worked depths to 170' but mostly around 120'. It didn't take long before we got a double (one was 10# Laker) and then another. The it got quiet. With four in the box, we went another hour and a half without a bump. We agreed to quit at half past the hour and I put the net away and pulled that dumb, unproductive dipsy. Putting the net away often works and we then hit our last Laker at 135' and had even marked it seconds before, something that rarely happens. Water conditions were super. The boat Annie Louise went by us and commented they had just missed a large Laker but were otherwise doing fine. Great day.
25Aug After doing some "house things" in the morning, followed by a little groveling, I headed out by myself in the early afternoon heat. As luck would have it the wind, flat until then, started up but didn't get too bad. I talked to a few people on the marine radio and action was mixed. I set up in 100' of water and in 45 minutes, picked up 3, no 4 Lakers. Yup, I got the third in the box and even though I raised the other downrigger 40' up while fighting the third fish, I got another hit which I released. Great action. While out there I heard one fisherman hit a 26# and several over 10# at around 160'. I believe it but mine were all 3# to 5#.
24Aug With "why argue with success" on my mind, Scott Cambensy and I headed to yesterday's marks on the GPS. We worked the 100' - 160' depths and found 6 Lakers ranging from 4# to 6# mostly at 120' or so. The water was calm and overall, a beautiful, sunny day. We nibbled on some freshly smoked Laker, then reluctantly headed back to port.
23Aug I just had to get out of the "missionary position fishing hole" so I told Tom we're headed further north and to shallower water and a spot that usually produced well. However, I remembered fishing it last month and we got zip. We started at 99' and within 5 minutes got a 5# Laker. Then another, and then a double, the largest a 14# with a lamprey hanging on to it. We caught 6 Lakers in exactly one hour, all within 100' to 120' of water. Water conditions were fantastic. Super day even if fishing hadn't been so good.
22Aug We got a late start but it was a beautiful day. Saw Laurel and Hardie (Doug and Don) and they had 5 Lakers in fairly deep water so we tried the same. As it turned out, we got only two Lakers and missed two we could see behind the boat but that was in 3 hours, mostly at 160' to 180'.
19-20Aug On the 19th, with guests Jim Cochran and his son Austin (6), we rocked and rolled in 2-3' rollers but moderate NE winds. Action was slow and the first Laker rattled the downrigger but quickly got off. We later landed two nice Lakers and a dink which we returned. Other boats were commenting on the slow action too. The 20th Tom LaPointe and I headed north starting at 140' and working deeper. Nothing happened for nearly an hour then wham, a triple, all nearly 4# Lakers. It took a while to get 2 more and just before quitting, we lost a probably 7# Laker just before we could net it. However, we had a beautiful batch of Lakers to smoke.
17Aug Rat Radtke and I started at 150' but nothing shook so we edged deeper and picked up 5 Lakers, all around 3-5#. Then needing only one more Laker, we hit a double, so we released a 4# Laker. The charter boat was saying how slow it was. Later in the day, Ed Barr was my guest as we headed out late afternoon under rain/mist-threatening, but calm waters. We quickly lost one and after about 45 minutes and missing two more, we caught a nice Laker on the steel line, followed by two Lakers on one line Ed carefully reeled in. Under misting conditions, we headed in after an hour and 15 minutes. Once again we found fish closer to the 180' depths. They should be moving shallower soon.
14Aug Rodney Smith and Gene Neibaur were our guests as we fished 150-180' water. Action was initially slow but soon we caught several Lakers, all nearly identical in size around 3#. None were suspended and all near the bottom. We filled and according to our DNR survey person Ed, several others did too. When we came to the dock, a boat was sitting on the trailer on the ramp and the guys had the prop off removing their tangled line. Insult to injury was they were trying to save the line. I politely asked them if they might pull boat up to the lot and work on it there which they reluctantly did. How inconsiderate of me to ask!
13Aug Winds were predicted for 10-20 from the north but it was calm so Tom LaPointe and I headed north, starting at 145' and quickly missing a nice Laker right behind the boat. We then slowly moved deeper and caught several nice size Lakers, mostly at 170'. The wind then quickly built to 18mph from the north, along with the waves so we fished with the waves into shallower water, picking up our last Laker in 120' water.
10 Aug George Patrick and I fished north of white rocks a short distance and slowly picked up several Lakers, mostly 2-3# but one 9#. We tried 150' but found it better at 160-180' and after nearly 4 hours and having at least 5 fish right be behind the boat (not netting errors) swim away, we got our 6 Lakers. Then we helped a friend at the launch who complained about getting too many bigger fish (5#+) and wanted to know where we were fishing. Lord, give me strength! I won't mention his name out of kindness. Can you believe a fisherman complaining the fish are too big? I told him to follow me next time as I rarely had that problem.
8 Aug After waiting until the rain stopped, I headed out at 10 a.m. to sneak in a quick trip. It didn't take long and I had a nice Laker right behind the boat which rolled and opened the snap swivel. Away he went with my lure. It wasn't 5 minutes later after rerigging, I caught two Lakers on one line, both small. Ah, said I, I only need one more when after about half an hour I caught a nice 4# Laker and tossed it in the box. Problem was it gave a flip and bounce out of my fish box, into the water, and swam away. Not too bright a move on my part. However, as luck would have it, I got another Laker and headed home. I was home about 15 minutes and the rain really came down. Thank you Lord!
I had promised to take my son-in-law Dave Smith and his worker acquaintances, Chad Selby and Brad Jezewski, fishing. Conditions looked good so we headed out late afternoon. The water was a little bumpy (2'+ from the NE) and it didn't take long before we caught 8 nice Lakers, all around 2-4#. It was lots of fun, especially for our two guest who hadn't fished for Lakers before. We weren't home 15 minutes before the skies opened up and the rain really came down. Talk about luck! Thank you Lord!
6Aug Rat and I launched at 8:30, noting only one other trailer in the lot. The wind was from the south but not strong so we wondered what was up. We headed around the break water and found the wind gentle from the south. We set up north of white rocks and after about 20 minutes, got a nice 4# Laker. We worked our way north to 180' water and picked up a few more, around the same size. In an hour and a half, we had 4 in the box and guess what, a triple. Great day but where was everyone? There were only 6 trailers when we returned, and that was on a Sunday.
5Aug The forecast called for increasing winds as the day went on so I got an early start, getting my first line down at 7:15 a.m. Before I could work on the second line, the downrigger bell rang and I got a 4# Laker. Shortly after that, two more Lakers rang the riggers and were put in the box. I was on my way home at 8:00 a.m., just as a good chop started from the south.
4Aug Shock - another beautiful calm day. Gene Neibaur and I set out for my "missionary position run" north of white rocks, starting at 150' of water. In short order we hit a nice Laker and before long, another and then a double. They were all leans, the largest 12# and two 6#. I keep the marks where I caught the fish on my GPS and noted most were caught very close to where I caught them yesterday, not that it means much but is interesting. The DNR survey person said the 4 boats before us had filled too. Water conditions could not have been better. When we got our 6th fish in the box after only 1 1/2 hours of fishing, I killed the engine and we just floated and drank our coffee and had a little smoked fish treat. Rough day on the Pond.
1Aug George Patrick and I set out at 7:30, a little earlier than usual to squeeze in a short trip before the expected thunderstorms were scheduled to move in. On flat water we started at 145' of water and quickly hit a double, one 4# and one 5# Laker. About an hour later George fought a real throbber on the steel line to a short distance behind the boat but we never got a glimpse of it before the fish and George parted company. We caught 3 more nice Lakers at around 170' before I commented it was getting dark to the west and a good time to go. We got home and a half hour later the skies opened up and lightning flashed.
31Jul Stannard Rock bound, Tony Pearson, Rod Smith, and I set out at dark-o-clock, several boat lengths behind Catch-A-Finn charter. The water was like glass as the sun slowly peeked up from the east. Two hours later, we were jigging in 120' water with tons of marks on the graph. It didn't take long to hook several nice Lakers which we released. We then moved to another spot where we caught an 18# and 14# Laker, releasing both. The 18# Laker kept taking line on Tony and panic was setting in as the line on the spool kept getting smaller. I said we'd better chase him or well lose the fish. I started the motor and got us turned around just as line ran out. Tony then got a few turns on the reel and after 25 minutes got the fish in. We moved a few times more to catch some more small Lakers, keeping only a few. We then had our picture taking session of the lighthouse before starting our smooth ride home. Super day!
30Jul On one of the nicest "Art On The Rocks" weekends, Bob Turenne and I headed a little north of white rocks to start fishing at 150'. We heard wide ranging comments from we got them suspended at 50' from bottom to on the bottom at 200'. We went nearly an hour and half before hitting our first Laker at 180' while the "slow fishing whining sounds" were coming from other boats on the marine radio. Slowly we picked up 4 more Lakers, running from 3# to 5# but not very lean looking. Here we go again, looking for our last one and ready to quit, a triple so we released 2 Lakers that looked between 4#-5#. The water had settled from the beginning 1' waves and we made our way in. Ed, our DNR survey person said about half the boats coming in filled.
29Jul Rod Smith and I headed east from the sand hole towards shot point in some bouncy water. We slowly picked up 6 small Lakers between 155' and 180'. We thought we were doing only fair but Ed, the DNR survey person, said we had more the the previous 5 boats combined. There was a lot of whining on the radio about how slow the fishing was.
19Jul With City workers extending the docks, George Patrick and I launched to fish north of white rocks on a crisp morning. We started at 145' and fished to 180'. We ended with 5 small Lakers but it was slow going. Most were at 180' but the last was at 145'. Others we talked with found it slow but Brian, the DNR fish surveyer said most were filling their limits.
16Jul Headed back to Shot Point seeing as we did so well the last trip (I don't know what that has to do with anything 4 days later). Bob Turenne and I with a late start (10a.m.) just got our lines down and we caught a small Laker, then another and then another - all within 15 minutes. We quickly thought our box would be full (read that as our limit since they're all small) and then the slowdown. At the end of 4 hours, we had 5 Lakers and couldn't get the last one. Repeat after me, I shall not gloat...
12Jul I finally got my Brother Ed on the Big Pond. We headed to Shot Point on fairly calm seas. Starting at 155' we quickly hit a small Laker and we eventually hit several more in 160 - 185' of water, releasing one of the "dinks" (definition: really small Laker). With 5 Lakers in the box, we started trolling back when we picked up the 6th Laker to box, only to look at the other rigger which had a Laker on which we released. Ed then hauled in the long steel line and no more than 50' behind the boat a 4# Laker hit by surprise, that too being released. Ironic, we released the two biggest fish but that was just fine as it was a lot of fun.
10-11Jul On the 10th, Bob Turenne and I headed to Little Presque Isle for a change of scenery and found two hours of fishing near the Indian nets "hitlesss" so we moved to Thoney Point where we worked the 180' depths and slowly picked up 6 nice Lakers. On the 11th Tony Pearson and I headed north of white rocks where again we tried the 150', only to get no hits. We finally worked to the 180' depths and picked up 6 Lakers, including two 5-pounders but missed 4 more. We heard considerable whining on the marine radio about how slow it was for their boats but then the DNR survey person said quite a few boats had their limits. Could have fooled me as it took us a long time.
9Jul Nephew Ed Beauchamp and Mark (13) headed a short distance north of white rocks starting in 145' but marked little and caught the same. We continued northward to 180' where we picked up 6 small Lakers and marked several, including considerable bait fish. The water couldn't have been nicer with the threat of rain moving way north and south of us. Mark did a great job reeling in his fish and only slowed down a little his non-stop eating of snacks.
6Jul As lead inmate in charge of the asylum, I launched my boat and jumped in to start the engine when the shift/throttle lever broke off. Not being too bright, I mumbled a few words and got a pliers out and operated the controls with the pliers. I then headed out by myself north of white rocks but got nothing at the 150 - 170' depths. After about an hour, I turned my usual hook run and caught a nice 5# Laker about 30' up from the bottom on the rigger I run higher when I fish alone. Shortly after I caught another Laker well off the bottom. The third Laker came from the rigger near the bottom in 185' of water. I felt much better as this run had usually been my bread and butter run but gave me some dry spells earlier this year, especially when fishing alone. Docking with a pliers to shift gears was scary as I headed to the launch like Clyde Crashcup, the pliers falling off the control at a critical time. I quickly turned off the engine and jumped out of the boat with the line to slow the boat down. Surprisingly, all turned out well. Next, repairs.
5Jul We've pretty much given up on the shallow fishing so George Patrick and I headed east to 150' of water where we "struggled" for 3 hours to get 3 small lakers and a nearly another one. Not to complain as the water was beautiful calm and the air at 57 degrees felt like 75.
4Jul On glassy water we headed to shot point with guests John Korienek and his father Joe. It didn't take long to get several hits at the 155' depth. The air temperature was 56 degrees but felt like 80 with no wind and we hated to quite after 6 nice Lakers but obligations awaiting us on shore.
3Jul With friend John Wells, we tried the 40' water and didn't even get a nibble so we moved to deeper water of 150'+. We quickly got a double with both fish on one line, one on the main line and one on the slider. Then another double like that. Then we missed several but finally got 6 fairly small Lakers. I asked John if he wanted some sun screen and he said yes, he had big holes in his blue jeans and wanted to put in on his legs where the sun shone through. I mentioned the kids would pay big bucks for those pre-distressed pants.
1Jul I was mopping around wondering why I wasn't fishing when the weather was calm and not raining, contrary to the forecast. Well, I went by myself and quickly got rained upon, only to be followed by slowly building winds to 18 mph. I finally got a hit, only to lose it at the net so that trip looked a lot like a skunk.
30Jun Headed north of white rocks and found 6 nice Lakers in 160-180'
29Jun - With neighbors Jeff (15) and Tony (11) Weston we fished the shallow water but this time we got two hits and two misses in a couple of hours. We gave that up where we headed to deeper water and quickly caught a small Laker but noted some huge marks on the graphs before the north wind suddenly kicked up 3 footers and we had to leave. I got the impression the bumpy ride back was as much fun for them as the fishing.
28Jun - Headed back to shallow water with guests John Frazier and Doug LaMora. It was calm as glass and a beautiful day. Action started slowly and continued that way, netting 5 nice Lakers and a Coho in a little over 4 hours.
24-25Jun - Guest Bob Neimi and I fished shallow on a threatening, but calm day. Action was a little slow but we picked up 3 nice Lakers in 3 hours. On returning to the marina, some numbskull with a big boat (I think named Lucky Lure) passed and cut right in front of me at the entrance so he could get the only available launch before me. I'm proud of myself for not calling him on it. What happened to boating protocol and courtesy?
On Sunday, "Rat" and I headed back to the shallows and caught only a Coho but saw a few other nets fly. We then headed to 165' water where we had 2 doubles and a Coho. Don't tell anyone I'm using Dipsy Divers because I've bad mouthed them so much but they got us the two Coho. The water was calm as glass but air cool enough you didn't roast. It doesn't get much better.
23Jun - BobT and I headed back to the 40' water where we hit a nice 9# Laker after about an hour. Then we got another hit but lost it. Then we lost another and another - 6 misses in all. However, we did get 3 nice Lakers in the box and the lake conditions couldn't have been nicer. Super day!
17 - 19Jun The glamour on shallow fishing slipped after hitting 5 nice Lakers on the 17th, one Laker on the 18th and no hits on the 19th. However, we're not going to give up. For one thing, it's too much fun to just troll around and hardly have to fool with the downriggers. Also, the fish fight so much better in shallow water. The last trip we picked up 3 small Lakers at 180' after getting no hits shallow. When we docked on the 18th, we were told by a fellow fisherman he hit 6 quickly at 150' while another fisherman hit the Lakers all suspended around 100'. I found it strange that Lakers would suspend this early in the season, especially in numbers.
12&13Jun Back in the groove fishing shallow. With gentle rollers and a cool but light east winds, on Monday we picked up 6 feisty Lake Trout in 40' of water in less than two hours. All were between 4 and 5 pounds. Tuesday, we "worked" for 5 hours and hit 5 Lakers and a small Coho. One boat reported doing well at 70' of water and claimed he released 6 of 7 he caught. Now the weather is supposed to turn windy with showers for a few days. Cheee!
10Jun I had a special treat with guests Captain Kala and Whitefish Willie from the Lanse area. We initially worked the deep water (200') jigging and drifted in the light but cold northeast wind and rock and roll rollers. That proved pretty slow so we trolled in the deeper water and slowly picked up 7 lean Lakers. According to the DNR survey checker, we were one four boats with fish of 10 checked. However, it was a very enjoyable day, albeit, a cool and bumpy one.
7Jun Guests and neighbors Len and John headed north of white rocks on a calm and beautiful day. We started around 140' but found working the 170' to 180' most productive, picking up 8 nice Lakers.
6Jun Harry "Crack 'o Dawn" Purvis, my guest, and I headed to the 40' hot spot at 10:30. Harry thought we were a little early. Actually we may have been late as we caught only one 4# Laker. Harry thought the slow fishing might have been caused by the cheaper Wal-Mart tinfoil on his sandwiches he rattles to tell the fish he is ready for a strike. During a rare moment of BS, I mentioned I justified the money I spent on fishing by not golfing. Harry said thank God for golfers as think of all the people that might otherwise be fishing. Good point and a good time.
4Jun I must have been blabbing because when I returned to my hot spot of yesterday, there were 8 boats there already by 8 in the morning. I quickly caught a 7# Laker but then it took quite a while to pick up two more, while the building northeast wind bounced the boats around and further cooled things down. If you can believe the chatter from the other boats, I did about average. I do marvel how many fish other people claim to mark when I usually mark very few. How could those fish-shaped icons on their screens (I turn this feature on mine off) not be fish?
3Jun By my lonesome, fished 40' water on a cool, calm morning. After making a circle, wham went the downrigger and the line shot out. Landed a nice 11# Laker. That was shortly followed by another, not so big. With two Lakers in the box and needing only one more to fill, naturally I got a double, having to release one. In one hour, I was on my way home with mixed emotion of a super day on the Lake but also having it pass so fast. I had just turned on the radio and was kicking back...
31May With the fog lifting, we headed east, past the Indian nets with one flag leaning and dipping the water. We trolled in 160' - 180' water expecting the wind to kick to the 10 - 15mph predicted, but it didn't. Instead, we had a calm troll east to shot point, taking nearly 5 hours to catch 6 Lakers, but who cares when it was so beautiful on the water. An incoming ore boat passed within a mile as a special treat. Once again, threatening to quit works. I said we're going in at half past the hour and 5 minutes before that, we got our last one. Besides, Bob and I were running a little low on BS.
30May Threatening rain, Rat and I fished 30' - 45' water for a couple of hours, hitting only a #6 Laker. We decided to take a chance on the weather to head deeper and found 5 additional Lakers, all nice sizes in 165' water. The water calmed off and the rain we got was more like a sprinkle. Ironically, we marked few fish. We saw one other boat fishing and no one was at the dock when we came in filled up. Boo, hoo!
28May Guest Scott Cambensy and I followed Shirlee's Kitchen (Murphy's boat) to near Granite rock to check the action there. We set up right behind Murphy in 190' water and quickly hit a couple of small Lakers. The water was calm except for some gentle rollers. After we put 4 nice lean Lakers in the box, we decided to troll towards a fishing spot I had, about 3 miles away. Shortly, we had one on, then another, then another...and we were allowed only two more. Then, as luck would have it, I reeled up my line with the stacker and there was another fish on. That was 4 Lakers on at one time, 2 on one line. We released two of the Lakers but not the one that weighed 11 2/3#. Super day and rough work for a little over 2 hours.
27May With wind predicted from the east at 10-15mph, it was calm but cold (42 degrees) as guest GeorgeP and I headed to the sand hole. We picked up 4 small lakers between 150' and 180'. Surface water was 45 but the air was colder. It was most enjoyable even though it was a short trip.
26May After several days of surfing winds and water, Bob T and I headed for the shallow water, under 50'. We got zip there so we headed to deeper stuff where we slowly caught 5 Lakers in about 3 hours, none being of any great size but all lean. Most were at 180' with one at 150'. "Crack-of-dawn" (I call Harry's boat that because 10:00 a.m. is crack of dawn to him) caught a couple of Lakers and a coho shallow and he said I started too early.
21May We fished north of white rocks in the 150' range with no results so we fished deeper to finally find 4 nice Lakers at 180' in 4 hours. Brrrr, the air was 45 degrees and water dropped to 41 degrees.
17May We hit the Lake at dark-o-clock, just so we could get home earlier. Fished north of white rocks in 150' of water but did nothing until we finally went to 170'+. Maybe it wasn't the water depth as much as Lake Trout may not wake up too early. We ended up with some of the larger fish of the season, the largest being 9# and smallest 4#. Not many boats out and don't know exactly why.
16May Tom L and I headed east on a cool, calm lake. We quickly picked up a couple of Lakers at 155' but struggled for the next three. The wind switched to the NE and the temperature dropped to 41 degrees. Yipes, it was cold. Surface water was 44 so putting your hands in the water even though it was warmer than the air, caused pain. Anyway, on the last fish I had a fish rattled the rigger real good but then nothing happened. I started the rigger up and Tom said "Is it still a fish?" Hmmmm, it struck me funny at the time.
15May Bob T and I headed out to the sand hole, just for a change of view. It's sometimes hard not to go back to the same place we got our limit at last time but then we hadn't been east this year so we started in 135' water and worked eastward to 180' where we slowly picked up a couple of Lakers. One Laker was very dark and had spots over its entire girth, the fishing looking like those that come from Stannard Rock. Both 4# Lakers were pretty lamprey battle scarred. Then the bonus of a nice Laker on the surface line. Finally, on a cool, calm, and beautiful day we were calling it quits when we caught a small coho on the surface line. Now I suppose I'll drag that surface line around for the next month with high hopes but little to show for. However, I always felt if you didn't have the line in the water, odds were pretty low you'd catch anything. Today it paid off. Great day!
12May Rat and I headed out in heavy fog but calm winds and mild rollers. We headed out past white rocks, picking them up on radar close by but not seeing them. We crossed our fingers there were no nets around as we couldn't see much around us so we started fishing in 165' of water. It wasn't 5 minutes and we had a double of Lakers. We worked northward up and down from the 170' to 190' levels. We eventually caught our limit of 6, one of which was around 25' off the bottom. Rat kept saying the fog is lifting but I interpreted that to mean we could see 100 yards instead of 100 feet. We didn't see land until we rounded the breakwater. The air temperature was 44 but without wind, it was great. We again got no hits on our surface line.
10May Ah, 'twas a fantastic day. The "Rat" was my guest and we headed north of white rocks in 170' of water on a beautiful, calm morning. We were fired up but nothing happened, not hits, no marks, no errors. An hour and a half passed and nothing. Not a mark, not a hit, not an error. I noticed several segulls sitting on a smooth line of water, similar to temperature change lines I've seen before. I steered over to it and almost instantly we got a triple but missed one on the way up. We then got another triple shortly after that. And one more fish a few minutes later. We quickly hauled in our lines, only to get one more Laker on the way up so we released it. None were over 3# but what a great day! There was very little surface temperature difference either side of the line and who know what temperatures were 180' down. Ironic!
7May00 Again holding back with a windy forecast, decided to hit the Lake at 1000 (lunch bunch) where we caught 6 nice Lakers, all 3 -4 pounds each. We fished north of white rocks, this time starting in 145 feet of water and going to 170'. It was calm as glass and the air temperature was 45 degrees while in town it was in the upper 70s. However, it was soooooo nice out there.
5May00 I stayed away from the Lake in the morning because of the wind forecast of 10-20mph. However, the morning was beautifully calm with no indications of wind about to start. I couldn't stand it anymore so I went out late afternoon with guest Tom L. where we caught 4 nice Lakers, all around 170' of water. Still no sign of wind. The air was 45 degrees but with no wind, it was beautiful. Again, eh, eh, when will I learn. When we got in, it was 80 degrees in town.
4May00 Finally, back on the lake after having major engine problems. Rear valve was burned so we had to pull the head and so on. Anyway, fished north of white rocks in 170 - 190' feet of water with guest Bryan Newcom. It was supposed to be warm and calm but winds switched from the north at 14 mph and it was 42 degrees. Eh, eh. We missed several but finally started picking up Lakers after the wind died. We ended with 5 nice Lakers, the largest 8#. There was a net around 1,000' north of white rocks with only one end marked. That sure makes it difficult to fish because you have to assume there's a net for a large area all the way around the flag. On 5May I talked with the Indian fishermen who said the other end was laying down so they added a weight to make it visible. I thanked them.
26Apr00 Well, riches to rags...the big skunkaroo. Went by myself (this is called lead inmate in charge of the asylum) where I went yesterday, only to not even get a hit. The graph showed some huge marks so that was what I came back with. However, it was so beautiful and calm it didn't matter. One of my lures was tangled too, which didn't help. However, you can always be assured that when you're skunked, people will be waiting for you at the dock. They were. If you've been very successful, they won't.
25Apr00 Invited guest GeorgeP who had fished Lake Trout fishing only once before. Water was perfect and we caught 4 nice Lakers, all over 170' deep. Guess what, a bonus of another Chinook (3#) at 170'. Amazing! Super day and we both had a great time.
24Apr00 With winds predicted at 8 - 18 NE, it was instead gentle rollers and light winds. Guest BobT and I caught 4 nice lakers, all over 170' deep. Air was 37 degrees and there was only one other boat to be seen north of white rocks. My boat was inspected by the US Coast Guard but passed with no problems. Spotted Indian nets.
22Apr00 Shakedown day with the "Cooler". The motor ran rough initially but then ran great. Honda ran a minute, then quit. After pulling several times, I reconnected the gas line and voila, magic. We fished north in 170' water and quickly hit a 5 1/2 pound Chinook off the bottom. Yup, a Chinook. Yup, 170' down. We then caught 6 Lakers over the next three hours. The water was beautiful but surface water was 38 degrees and air 37 degrees. There was skim ice on the way out. What a super way to start the season.
18Apr00 Finally got out for Lake Trout but not in my boat. We fished north of white rocks in around 180' water. We caught 6 Lakers, all around 2-3#, and missed at least 10. Winds were light but the 50 degrees predicted was more like 40 on the Lake. It was a great day.
14Apr00 I visited Presque Isle marina and notice the sign has been changed to show $3.00 launch fee but the envelopes still say $3.25. Don't be fooled as $3.00 is correct. Eh, eh as Paul Harvey would say! If you paid too much since Spring, I understand you can go to Parks and Recreation and get a rebate. Click here to see my remarks 29Mar00 on this matter. By the way, I talked with Ed, our friendly DNR fish survey man who said fishing has been S-L-O-W. The one one boat out that came in while I was there was skunked. However, earlier one came in with several lake trout out deep. Not the best Spring for fishing. Can't wait until it warms up...
5Apr00 Here're extracts from email I received on my Two Tackle box article below. If you haven't read my article first, you should. The email said quote "Joe, I actually feel sorry for you if you only have two tackle boxes. Just in the boat you need one for surface fishing (Rapala's), one for spoons and dodgers, one for bobbing, one for line, leaders, swivels. Then ice fishing you need one for perch, one for whitefish, and one for trout. Then there is the old one in the fish house at the camp, a couple of smaller ones in the garage that I don't know what is inside of them. Hmmmmm - need to look at them. Ohhhh, then there is the stuff in the old duffle bag with the big spinning reel in it. Ohhhhh yea, there is the box in the hallway that has the stuff I took out of the small tackle box to make it lighter to carry when we went to Isle Royale. Maybe I should buy a couple of the new giant tackle boxes so I can consolidate them a little. On the other hand maybe I should just get a couple more to hold the stuff I buy every time I go near a sporting goods store. A guy can't have to many you know!!!!!" Unquote. That made me feel better!
23 Mar 00 Ok, so I've been fishing with my 14' boat for salmon (or anything that will hit) a few times in both the Presque Isle harbor and Marquette harbor and just haven't mentioned it here...but for good reason. It hasn't been a pretty sight. I went out a few days ago and talked with several other fishermen on their success. I got the usual story of "you should have been here yesterday." Well, I wasn't fishing yesterday. So I went out again on the 23rd, a beautiful, sunny day, starting out around 40 degrees. Guess what, most all the harbor was covered with skim ice and it was nearly impossible to get the lines in the water. I asked the National Weather folks once what caused skim ice and all I got was a surprised look and a "that's interesting and we'll find out something for you" response. That was a couple of years ago. I always wondered about how skim ice could form on a huge body of water such as Lake Superior, after the winter's ice was largely gone and the overnight temperature in Marquette didn't go below 35 degrees. Besides, I thought warm water rose and therefore, would make it even harder for ice to form. So, where does this ice come from? I've seen it form as late as June. Of course, it has to be a very calm night.
Well, I got an excellent answer on skim ice from Captain Kala in 'Lanse (big time fisherman). He stated water is denser at 39 degrees than at any other temp and therefore water colder than 39 degrees is less dense and will float. Existing lake temp is about 35 to 37 degrees so as it is cooled off at night it can form a thin layer of water that will float on top of the 35 degree water. This cool water can then freeze if the temp is close to 32 where the combined evaporative effect and the cooling effect can get below 32 degrees and form ice. Once the lake has warmed to warmer than 39 degrees night ice can no longer form.
Anyway, my salmon fishing has been a bust. My plug fouled in my motor so I pulled the boat, changed the plug, and the motor then ran fine. However, the day was anything but lost because I didn't catch anything. It was not only calm and just nice to be on the water, but the Coast Guard Icebreaker Mackinaw left the harbor and passed a few hundred yards from me. What a beautiful sight that was.
During the past few weeks I also tried fishing on the breakwater where there were good reports of salmon catches with just bobbers and worms. Also tried for whitefish. However, my two days on the wall were again "should have been here yesterday" types again. Now, I've decided to work on the "Cooler" and get it ready.
17 Mar 00 Two-Tackle Box Syndrome. It all started about a week ago when I was rigging a few rods to fish the breakwater for whitefish and Coho. I bought a few small hooks at a local tackle shop, then tied up a small swivel and tested the line, which promptly snapped. The line seemed bad so my idea was to change reel spools with a better line. Now where was that spool? It must be in my other tackle box in the basement. Well it wasn't there but I did see some things in it that I forgot I had, some duplicate of those in my main tackle box, whichever was my "main tackle box." Thinking I should consolidate some of this stuff I opened the two boxes and started. Then I remembered the box of miscellaneous stuff in my other attic tackle box. I also had a box of stuff on the top of a shelf...and a drawer of loose gear. Pretty soon, I had fishing gear strew all over the place. I found I had hooks exactly like the ones I just bought. I rarely fish for Walleye but had enough tackle to start a small store. Ironically, when I fish Walleye, I usually use only a couple of the same lures but I'm always prepared with other lures. It's the same for fishing on Lake Superior - a couple of spoons is all I use. This I refer to as the Missionary Fishing Position -- if something works well, why change? Ironically, it doesn't often work for Walleye.
My attention span was about the same as my 4-year old grandson. I would get to working on some of this tackle and soon get sidetracked. Before long, I was working on something completely different. At this point I still had not located my spool but did discover another reel that would probably work. With 5 tackle boxes, boxes of gear, drawers open and gear cast about, it took about 4 days to consolidate my gear. In the process I eliminated only one small tackle box but now will always know where my stuff is when I need it...it'll still be in one of my tackle boxes that I don't have with me.
When looking for things, I often think, "where would a logical person put that item?" My seemingly logical concept is often anything but logical. I seem to remember things best that were originally put in stupid places. When I move items to a "logical" place, the litany of "now where did I put that" inevitably starts weeks or months later when I'm looking for them. When I ask myself the question where I probably "logically" put them, my current logic usually says the items are somewhere else. So much for logic!
Nearing the end of this tackle consolidation saga, all of a sudden a light came on that there was yet another drawer of mostly miscellaneous items containing some tackle items. Guess what, at the bottom of the drawer was the spool that started this whole adventure even though I stopped looking for it. No logical reason it was there. I didn't do much to straighten that drawer because everyone needs a drawer or box to just throw things in as a "holding area" until or should I say if one decides to "get organized" someday. OK, so I had more than one of these drawers and tackle boxes.
So what have I learned from all this? Really there are several principles involved here. The first is an axiom that can apply to anything from organizing tackle to computer files - the more you break things down or store things "logically" the more complicated it becomes and the harder to find. The second axiom is what I refer to as the "Mushroom Effect." This effect normally starts as an innocuously small project (such as this one) where in order to accomplish the one small thing you wanted to do soon leads to another project, usually more complicated and expensive, and soon the whole project mushrooms out of control. Plumbing jobs are excellent examples of the mushroom effect. The third axiom is not to stop buying fishing gear even if it's unlikely you'll need it because you really can't be sure you won't. That's assuming you can find it when you need it. This last axiom may cycle one back to the two tackle box syndrome as if you buy several of the same items, you can put one in each tackle box (hopefully not all in one) or put them in different locations. This principle also applies to house tools kept on the boat.
Now that the goat rope exercise with tackle is largely behind me, I moved on to the supposedly simple task of putting new line on my downrigger rods. However, that's another story for another time.
24 Feb 00 - I'm just setting up for the coming year. Rain and thawing in February has started the fishing adrenaline flowing early -- too early! Launch date probably won't be until early April but I may get the small boat out and go after salmon earlier. If I do well on the salmon, you won't hear about it from me.
Prior Year Reports
| | | | |
| --- | --- | --- | --- |
| Date | Lat | Lon | Net |
| 4Oct00 | | | I can't keep up with net locations as they change every time I go out. Therefore, I'll no longer report them. |